Woodstown Ends 31 Year State Title Drought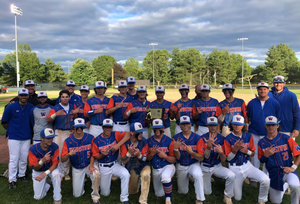 Woodstown was on a serious mission in the 2022 season. Last year they had won a sectional title but fell in the state semifinal to Middlesex, 7-5. This year after starting out hardly above .500, the Woodies picked up their slack and won a sectional title and they got past the semifinal round defeating Point Pleasant Beach, 4-0. This set Woodstown up for a date in the state final with New Providence who was looking to avenge a 4-3 loss in the state final to Middlesex. With both teams out for revenge, spectators were in for a treat.
Woodstown started the game off by putting pressure on New Providence with some small ball. New Providence pitcher James Pazdera bent, but didn't break. For the first 3 innings both pitchers traded scoreless frames. New Providence struck first with a laser shot to left-center by Dean Licari that raced over the fence to put up the lone run that inning. Woodstown answered back in the top of the 5th with a Ben Woodruff RBI single and a blast to center by Jack Knorr that brought in 2 runs. Woodstown would extend their lead in the top of the 6th capitalizing on Pioneer miscues in the field. A Nick Bisaccia RBI single cut the lead to 2 runs in the bottom of the 6th. More New Providence defensive mistakes helped Woodstown score 2 more runs to put the game out of reach.
Brent Williams came back out for his second inning of relief work and immediately got help from his defense. After an error by the third baseman to start the inning, Lucas Prendergast snagged a liner and doubled off the runner at first. Getting the final out was no easy task for Williams though. He would walk the next batter and Lucas Vitale would single right after. Williams would bear down and catch James Pazdera looking at the third strike to start the celebration for the Woodies after waiting 31 years for another state title!
Woodstown head coach Marc DeCastro credited his team for being very mature. He went on record to say "They matured in season more than any other team I've been around. It wasn't like it was after game 1, it was around game 15". "They took it upon themselves to change the atmosphere and change their approach to come together a bit more. That's all this was. They realized the changes that needed to be made and this was the end result". In just 2 full seasons at the helm for Woodstown, Coach DeCastro has won 2 sectional championships and a state title after taking over the program for legendary coach, Lee Ware. 
Chris Baker from NJ Athletics. You can reach Chris on Twitter (@cbake_51) or you can reach him by email (cbake2025@gmail.com). Be sure to check out NJ Athletics on Instagram (@NJAthletics) and on Twitter (@nj_athletics)