Woodbury Dominates in Second Half to Win Sectional Championship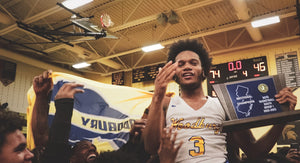 Photo by: Paris Livingston
The stakes were high as the Woodbury Thundering Herd faced off against their opponents in the Group 1 South Championship playoffs. This highly anticipated game would determine who would advance to the next round of the playoffs, and the players and fans alike were feeling the pressure. The atmosphere in the gym was electric, with both teams determined to give it their all and come out on top.
The first quarter of the game started off slow as both teams looked to find their rhythm. The quarter ended with a score of 14-12 in favor of Burlington City. However things started to heat up in the second half as both teams started hitting shots and making the right plays. Burlington City finished up with a an 8 point lead with the score being 34-26. 
The pivotal point in this game came in the third quarter where Woodbury started to separate themselves as they began firing on all cylinders. The defense was tight with a total of 16 turnovers, and their offense started to rapidly excel. The Blue Devils tried to keep up with Woodbury's relentless pace, but they simply couldn't keep the Thundering Herd at bay.
Solomon, in particular, was a standout player for Woodbury. He was aggressive on both ends of the court, grabbing rebounds and making big plays on offense. Although he scored 6 points in the first half, he came alive in the second half, scoring an incredible 25 points to help secure the win for his team. By the end of the game, Solomon had racked up an impressive 31 points, further cementing his status as one of the top players in this Group.
As the final buzzer sounded, the Woodbury Thundering Herd emerged victorious, winning by a commanding score of 79-52. The team's hard work and dedication had paid off, and they had earned their spot in the next round of the playoffs. With their dominant performance in the Group 1 South Championship, the Thundering Herd showed that they are a force to be reckoned with, and they will undoubtedly be a team to watch as they compete for the Group 1 Championship.