West Morris Central Run Game Breaks Down West Essex for Second Consecutive Sectional Title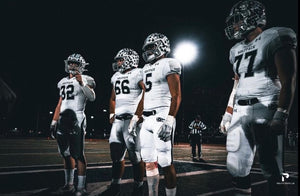 Photo by: Bryce Drakeford (@likexbryce)
Coming into the playoffs, a potential rematch between the West Morris Central Wolfpack and West Essex Knights in North 2 Group 3 bracket was on the horizon. The meeting came to fruition in Friday night's sectional finals and did not disappoint. Earlier in the season, the Wolfpack walked away with a 9-7 win on a late field goal from Johnny Viera. The Knights were given their chance at redemption with the season on the line, but West Morris Central kept rolling. The fourth quarter was the difference maker in this tilt.
    A Stefano Montella run put the Wolfpack up 7-0 in the first quarter, and it was not answered until the 2nd quarter with Mike Maglione punching one in from the one-yard line for the Knights. The third quarter was a lot of back and forth, but West Morris Central found their rhythm in the final quarter. Montella has been the state's premiere back all season, and West Essex held him to a season-low 88 yards in their earlier matchup. He would have none of that with a second consecutive sectional title on the line, going for an eye-popping 256 yards and 2 touchdowns on the night. The Brown-bound running back was so good that Coach Kevin Hennelly only had the offense attempt one pass the entire game. Montella engineered a great drive early in the fourth and finished it off by punching the ball in the endzone for the lead. He may be known for his offense, but Montella racked up a sack and 14 tackles at linebacker (the position he is committed to play at Brown). The West Morris defense would continue to hold West Essex, allowing just 125 total yards all night. 
Late in the fourth quarter, Coach Hennelly put the ball in Sam Rizzuto's hands on fourth-and-one just before midfield. This allowed Vinny Desiderio to put the game away with around three minutes left on a 43 yard scamper to extend the lead to 21-7. The gutsy call up by a touchdown proved to be the nail in the coffin. With a 21-7 win, the Wolfpack will face Old Tappan to win a second regional championship in a row. This is the first time in program history that West Morris Central has won back-to-back sectional titles and it looks like it could be the program's first-ever undefeated season.