Trending Up: NJ Basketball Teams Making Some Noise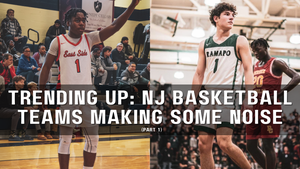 Photos by: Paris (@fli_lights) & Anthony Ferrara (@af.visualsss)
As we are a few weeks into the 2022-2023 season, we look to showcase a few teams that are moving up the ladder. With a lot of questions coming into the season, these teams made sure to clear those conversations up as they get off to a solid start.
Teaneck (7-3)
Don't let the record fool you, Teaneck is a tough squad. Led by Senior guard Tyler Tejada, the Highwaymen have lost 3 games so far this season, two of them being decided by one point, and the other being a solid effort against a Top 5 team in the state. Teaneck is coming off their most impressive win of the season, taking down Arts 61-48. They have a tough remaining schedule, Don Bosco, Paterson Eastside, and Montclair Immaculate just to name a few. The next few weeks will be exciting to see where Teaneck matches up against state powerhouses. 
Ramapo (10-0)
Ramapo might be the hottest team in the state right now as the remain undefeated while taking out multiple Non-Public teams in the state. In the last two weeks they have been piling up wins over very solid basketball programs. They took the Jingle Bell Jubilee title after defeating both Gill St. Bernard's & Immaculate Conception. They then went on to defeat Hudson Catholic and Bergen Catholic in the following week. Their schedule lightens up a bit but they will eventually meet with two prep schools being The Patrick School and Blair on 1/14 and 1/22. 
Camden Eastside (7-0)
Camden Eastside was out to prove a point this year. After losing many experienced seniors from last year's championship team, the Tigers rebuild their roster and made sure they had the right pieces intact. With a lot of question marks coming into the season Coach Kenny Avent made sure to clear them up early on into the season. They are currently undefeated with impressive wins over St. Augustine, Bishop Eustance, and #4 St. Thomas Aquinas all in the same week. With Camden on the schedule this Tuesday (1/10), the Tigers will look to make a point against their cross-town rival.
South River (10-0)
After an impressive 20-8 season, the Rams return most of their key players from last year's roster. So far they have been playing at a really high level as they start the season with an undefeated 10-0 record. They currently have 4 players averaging over 13 points per game and a ton of solid role players to provide help off of the bench. Senior  guard Jeremy Grospe recently came off of a 40 points performance where he sank 12 three-pointers. With a big win over St. Joe's Metuchen, South River looks like a team that can make a lot of noise in the GMC.