The Simeon Wilcher Statement Game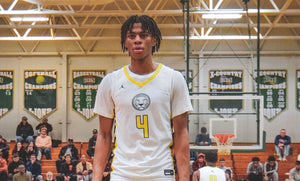 Just a few days ago, it was announced that the McDonald's All American roster was officially released to the public. Even though New Jersey was well represented with six players being invited, many believed UNC commit Simeon Wilcher should have been one of the names called up for the honor. Wilcher, ranked 27th in the 2023 class, continuously put up great numbers in the EYBL and for Roselle Catholic, throughout the past two years, but still the committee decided to look over him.
In yesterday's game against Don Bosco, Wilcher decided that this would be the game where he would showcase why he should have been selected with the honor. The Ironmen, who are led by five star guard Dylan Harper, have been shocking many critics in the high school basketball world. After defeating Centennial High School (CA) at the John Wall Classic, the Ironmen have been on the radar for having an underdog season. Harper has also been showcasing on why he should be number one in his class.
Throughout the game, Roselle Catholic and Don Bosco went back and forth, trading bucket for bucket and playing intensely on both ends. In a period of time late in the third quarter and early in the fourth quarter, Harper scored on numerous possessions to help the Ironmen lead the game by a couple of points. With Harper's ball handling and shot-making ability, it is usually hard to come back in the game when he catches fire.
But by late in the fourth quarter, Wilcher proved why he is one of the best guards in the country. After making a three pointer late in the game, Wilcher's consecutive layups helped Roselle Catholic edge Don Bosco 68-60 to win their ninth game of the season. Wilcher ended with 20 points while Harper ended with 27 points. 
With this victory, this can be a confidence booster going forward. Despite not being able to pull out victories against top teams in the nation, RC has the potential to finally get their groove and continue winning games. For Wilcher, the sky's the limit for him. We hope he carries on playing with a chip on his shoulder and showing why he is a future point guard for Hubert Davis and the Tar Heels.