The Rise of The Basketball League and New Jersey's Atlantic City Gambits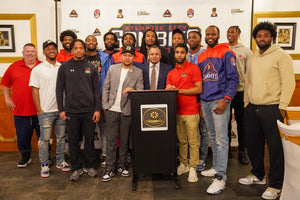 In this era for the sport of basketball, there are numerous lanes you can go to achieve your dreams in becoming successful. Other than the obvious choice in the NBA, you have the Euroleague, where you can play in numerous overseas countries and still play against top tier competition. You also have the G-League, a continuously growing league and the ultimate development center in which you are surrounded by NBA trainers and coaches to help you with your skills. With other leagues that are in the conversation, there is one in particular that is growing rapidly in time. That league is The Basketball League (TBL), run by Evelyn and Dave Magley.

Launching in 2018, the league since then has done a great job in expansion. After starting out with eight teams in the beginning, the league now has 35 teams, with ties to coaches and trainers with NBA and professional backgrounds and a league called the NBLC, which allows league play with teams from Canada. The best thing for New Jersey specifically you may ask? We have our very own team, the Atlantic City Gambits.

Originally starting from a summer tournament, The Gambit franchise has made quick strides of success in their time with the TBL so far. With head coach Elijah Thorpe at the helm, mixed with owner Deshawn Ward, the Gambits have made a name for themselves throughout the entire league. This was largely due to their magnificent season in reaching the Northeast Division Championship against the Albany Patroons.

"Last year, our original plan and biggest wish was just to have a completed season," Ward expressed. "We made sure not to have our guys quit and to have them compensated whenever they needed it. Once we got past that, going to the playoffs became a realistic dream. To go from just wanting to finish out a season to having a main focus of winning is really amazing."

Not only was the Gambits putting on a show in their own right, but the support system was immense. According to Ward, around 200 people came to Atlantic City High School each game to see the Gambits in action. As one of our only pro teams in the state of New Jersey (alongside the Devils), the Gambits have a great number of fans following them on a consistent basis.

Notable players that are known across the TBL are a part of the Gambits organization as well. This is the case with Jachai Simmons. Who was able to earn himself a spot on the All Eastern Conference team, averaging 21 PPG and seven rebounds for the season last year. This year, guard Frank Turner is one of the league leaders in assists while forward Brandon Taylor is a league leader in blocks with two per game. In terms of the future of the Gambits, there is no limit to what can happen, according to Ward.

"Our goal this season is to definitely win a championship," Ward said."But in the long run for the organization, I'm hoping we build such a strong franchise that we can get noticed from the NBA G-League. Maybe somebody will be willing to give us an opportunity and see that we have great people on our staff with great fans from a great city."

With the TBL growing so rapidly in such a short span of time, it is safe to say that the Gambits are on the right path. With a starting record of 4-1, they are already looking for a successful season. If you can, check out the Gambits immediately. They are making ultimate moves here in the state of New Jersey!