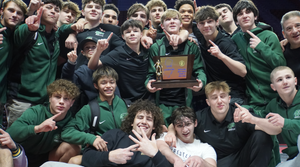 In a stunning upset, the St. Joseph (Mont.) wrestling team defeated Delbarton to claim their first state title since 1998. Going into the match, Delbarton was the No. 1 ranked team in New Jersey, but St. Joseph (Mont.) came out with a fierce determination and pulled off the upset victory with a final score of 34-21.
One of the standout performances of the match came from St. Joseph (Mont.) wrestler Mateo Sgambellone, who won his match against Tyler Vazquez in sudden victory with a score of 3-1. Another key win came from Aidan Schlett, who defeated Henry Forte with a score of 5-3. Michael Dellagatta also had a dominant showing, earning a major decision with a score of 9-0 over Vincent Lee.
But the match was not without its tense moments, including a 10-point swing when St. Joseph (Mont.) wrestler James Sloan executed a reversal pin while losing for most of the match against Chase Quenault. This pivotal moment helped swing the momentum in St. Joseph (Mont.)'s favor.
Delbarton did have some standout performances of their own, including Jayden James' win over Mikey Bautista with a score of 11-8, and Alessio Perentin's pin against AJ DiGiovanni in just 1 minute and 8 seconds.
Despite these individual performances, it was the overall team effort of St. Joseph (Mont.) that proved to be the difference in this matchup. The team fought hard and executed their game plan to perfection, earning a well-deserved victory and claiming the top spot in New Jersey wrestling.