Rutgers' Rushing Force: Kyle Monangai is Shaking Up the Big Ten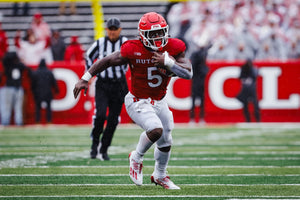 photo by: Ariel Fox (@afox_14)
It is hard to argue against the fact that Kyle Monangai is one of the best running backs in all of college football. Coming off of a huge performance in a win against Michigan State, Monangai is leading the the Big Ten in rushing yards with 675 on 120 carries and seven touchdowns. Known as a hard runner with electrifying speed, Monangai has worked hard to get the success he is accumulating with the Scarlet Knights.

Growing up in New Jersey, Monangai lived in a household that was not even familiar with the sport of football. But with having an older sibling to look up to, Monangai developed his love for football in a unique fashion, which then allowed him to want to learn how to play.

"My parents are from Cameroon and are first generation immigrants, so when they came here soccer was introduced to me before football was," Monangai said. "When my brother was in third grade, my mom let him play because a bunch of his friends thought he would be good at it. So while I was growing up, I saw my brother playing and it made me fall in love with the game from watching on the sidelines, which then translated to me playing soon after."

During his high school years at Don Bosco, Monangai was able to translate his brother's advice to the field in spectacular fashion. After the end of his senior season with the Ironmen, Monangai had rushed for 900 yards and 11 touchdowns, earning himself to be named as a three star recruit and a top 50 player in all of New Jersey. With this type of success, at least 30 different schools offered Monangai and wanted him to join their programs.

While this was the case, though, Monangai had his eyes set on playing a specific type of football where he would not only enjoy personal success, but also be able to win at the highest level possible. That is when Monangai set his eyes on Rutgers, a school that Monanagi did not plan to go at first.

"I was initially going to Cal Berkeley before Rutgers had offered me," Monangai said. "But then I took an official visit here and I built a strong relationship with all the coaches. Soon as I came here, it became a perfect fit for me, especially with the fact that I get to stay home and play in front of my friends and a family on a consistent basis."

Of course, that would prove to be a great decision by Monangai. Through his career, Monangai has grown into the leader of the team through a combination of his skill and his willingness to get better at his craft. While speaking to him, I was able to hear the passion through his words.

"I did not always have the success I have now. I kept my head down and worked and I never let anyone outwork me. From starting with special teams and then working my way up to being with the running backs group, I never looked back and I always wanted to take advantage of what I can control."

With the season Monangai is having so far, there is definitely a chance that we may see him in an NFL jersey very soon. Make sure to catch him every weekend for the Scarlet Knights as he continues to dominate college defenses.