Rutgers Basketball 2023 Full Roster Preview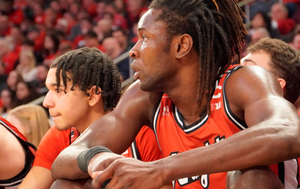 With Basketball season quickly approaching, it means another season for the Rutgers Scarlet Knights under Head Coach Steve Pikiell, who is entering his 8th season on the job. The team may look very different than last year, and that is mainly due to the transfer portal and the new world of NIL deals. But Pikiell and his staff took that as an opportunity for his own staff to do the same, and ended up acquiring four transfers, along with two incoming freshmen.

Here is a preview of the new-look roster this season:

#0 So. Derek Simpson:
Entering his Sophomore season, Simpson showed a preview of his potential over the last four games of last season, averaging 15.5 points per game in that stretch, even taking complete control of the game at times. This year, Simpson is expected to be a solidified starter.

#1 Fr. Jamichael Davis
Freshman Jamichael Davis has already impressed NBA scouts before even playing in a collegiate game, showing off his talent for the first time in the scrimmage against St. John's, in which he looked to be the best player on the court, scoring 16 points and grabbing 6 rebounds. Should have a huge role off the bench to begin the season.

#2 Sr. Noah Fernandes
UMass transfer Noah Fernandes will be gladly welcomed to the program, despite causing horrors against the Scarlet Knights a couple of years ago, when he hit the buzzer-beating game winning three to beat his future school. Rutgers needed shooting, and they got their guy, who will likely split time along with Derek Simpson running the Point Guard position.

#3 Sr. Mawot Mag
Mawot Mag has been the missing piece in the rotation since his season-ending ACL tear back in February. While he is still recovering and may miss some time, he will easily be in the starting five once he is back at full health. His defense is the best on the team, and would be a huge help moving forward, especially if he can return as soon as possible.

#5 Sr. Aundre Hyatt
Aundre Hyatt may be the X-factor on this year's team this season, as improved consistent production from the 6th year senior could end up being the edge in many games. While Mawot Mag eases back from injury, Hyatt is expected to start in his place for the time being.

#7 Sr. Aiden Terry
Aiden Terry enters his 4th season as a walk-on at Rutgers, being a fan favorite of many for every season he's spent in Piscataway. Last season, Terry's first career three pointer came on his birthday in the 90-55 blowout victory over Minnesota.

#9 R-Sr. Oskar Palmquist
After initially transferring to Elon in the offseason, Oskar Palmquist is back for at least another season with the Scarlet Knights to bolster the depth. He has now become the veteran of the team, and has become a solid role player. If he can give the team a spark by hitting a couple of threes when they need points, it would be a very big help.


#10 Fr. Gavin Griffiths
As of now, Gavin Griffiths is still the highest ranked recruit to ever sign with Rutgers. This kid is going to be something Rutgers fans haven't seen in a long time on the banks. Griffiths' sharpshooting skills will be a huge boost for the squad, who will be in desperate need of shooting, because of the departure of Cam Spencer.

#11 Sr. Cliff Omoruyi
Big Cliff Omoruyi is coming off of an All-Big Ten selection last season, and a preseason All-Big Ten selection before this season. Cliff has already shown his flashy dunks and lockdown post defense, but if he can improve offensively from outside of the paint, he could be even more dangerous than he already is. Expect for Cliff to lead the team in points and rebounds.

#13 So. Antwone Woolfolk
Antwone Woolfolk is expected to serve as the backup Center to Cliff Omoruyi for another season. Woolfolk lost about 20 pounds over the offseason, making him more agile and quick down the court. Many have said that he could very well be the most improved player on the team. Rutgers would certainly use the depth.

#15 So. Jacob Morales
Jacob Morales enters his 1st season as a Rutgers walk-on, but technically 2nd, as he practiced and traveled with the team last year, just wasn't listed on the roster. Morales is a transfer from D3 Springfield College in Massachusetts, where he was primarily a starter his freshman year, and averaged 11.8 points per game.



#21 R-Fr. Antonio Chol
Don't let last year's stats deceive you, as Antonio Chol only appeared in 4 games in garbage time last season, and then ended up maintaining a redshirt, allowing him to remain with 4 years of eligibility. Chol has impressed in practice with his three point shooting, and hopefully can translate that into real games.

#22 So. Emmanuel Ogbole
JUCO transfer Emmanuel Ogbole is also coming off of an ACL tear, which actually came after Mag's. He will remain out for the time being, but is expected to return at some point in the near future, Ogbole provides key depth at Center, where he will be needed when facing larger lineups

#23 Fr. Daniel Vessey
Daniel Vessey is entering his 1st season as a Rutgers walk-on, after almost attending Army West Point to play basketball on scholarship. Vessey scored a total of 1,253 points in his high school career at the Hun School.

#24 Sr. Austin Williams
Austin Williams is entering his 7th, I repeat, 7th season of college basketball. The NJ native made stops at Marist for two years, Hartford for three years, and FIU for one year where he did not play due to injury, and now is back home playing for Rutgers. Williams may be the most underrated player on the team, as he has solid defense and can also be a solid scoring threat, as he averaged 16.1 points per game in his last season at Hartford.

#25 R-Jr. Jeremiah Williams
Jeremiah Williams, no relation to Austin, will definitely be missed this season. The Chicago native likely won't have his waiver as a two-time transfer from Temple and Iowa State approved by the NCAA, causing him to sit out this season. But when he does return next season, he will be a key piece in the rotation, and potentially even a starter.

#53 Sr. Zach Hayn
Zach Hayn enters his 1st season as a Rutgers walk-on, coming in as a transfer from D3 Hartwick College in New York. His father, Steve Hayn, is the Rutgers Chief of Staff on Pikiell's crew.

The overall vibe from the squad this year is that they will be slightly worse than they were last season. Is that accurate? We will have to find out. Others think this year's team can be even better than last year, and should definitely be an NCAA Tournament team. Steve Pikiell's teams flourish off being the underdog, so it may bode well for them this year. A faster-paced offense, more shooters, less defense, smaller-than usual guards, depth, is just to name a few of the titles that describe this year's team. The Scarlet Knights tip-off the 2023-2024 season against Princeton on Monday night in Trenton.