Private Powerhouses Clash For State Supremacy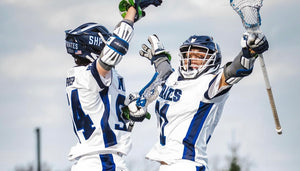 One New Jersey game specifically has been circled on the calendar for lacrosse fans across the state and media outlets across the country. The Seton Hall Prep Pirates and Delbarton Green Wave have been the consensus top two teams in the state from preseason to now. Over the course of the year, they have separated themselves from the pack and will meet in a battle for state supremacy this afternoon. The Pirates are favored by most outlets, but everyone expects a close game full of stout defense and ball movement as rhythmic as clockwork. 
Let's start with number one: Seton Hall Prep. The Pirates have steadily risen from a preseason ranking of 23 in Inside Lacrosse's national rankings up to 18. This matchup with Delbarton will be their biggest to date, with consistently dominant wins over the likes of out-of-state Iona Prep (NY) and in-state powers Summit, Chatham, Rumson-Fair Haven, Manasquan, Westfield, and the list could go on. The Pirates' star-studded offensive lineup is scoring a ridiculous 13.1 goals-per-game behind Bryant-bound senior Matthew Pepe's 30 goals and 55 points. Pepe isn't the only one racking up points, with Utah-bound Brad Schuster committing 29 goals, junior Air Force commit Christian Schweiger potting 24, and Holy Cross commit Tyler Juhlin reaching 24 after scoring the game winning goal in the Essex County Tournament finals. All this offense is further backed by a defense only allowing a miniscule 3 goals against . Led by Notre Dame-bound senior Shawn Lyght, this unit consisting of Lyght, Denver-bound Brody Davis, St. Joseph's-bound Liam Oakes, and Drexel committed LSM Patrick Quinn is physical and consistently wins ground ball battles. Even when the opponent gets their scarce high-danger opportunity, Manhattan commit Adam Angel is stopping 66% of the shots directed at him. The 15-0 Pirates did have to navigate their faceoff situation earlier in the season, and have found a gem in steady sophomore Theodore Coyle who has won 65% of his 127 attempts. 
The Green Wave have had one of the state's toughest schedules. They are 11-0 against in-state, but have suffered losses to nationally ranked powers St. Anthony's (NY, #4), Chaminade (NY, #21) and Malvern Prep (PA, dropped from Top 25 this week). The gauntlet of their out-of-state schedule, Fitch-Pitt divisional matchups, and two games against Mountain Lakes have them slightly more tested than the Pirates. The Delbarton offense has sparked lately, silencing critics of their ability to hit the mesh at the back of the net. Bates-bound Gray Doyle leads the team averaging 11.3 goals-per-game with 23 goals and 51 points. His brother Willie is coming off an MVP performance in the Morris County Tournament final and has 21 goals and 29 points. Quinnipiac-bound TJ Coffey's 19 goals along with various other supporting cast members has propelled the depth of their offensive attack to overwhelm other teams. The ball movement and offensive efficiency that they generate keeps the ball in their possession for the majority of games. Speaking of possession, the Green Wave boast two of the top FOGO's in the state. Lafayette-bound Nick Faccone and Navy commit Ryan Trafford have split time on the draw and have won 64% and 63% of those attempts, respectively. The defense and transition game sets Delbarton apart. They take their time and do not overcommit, instead trapping opponents before zipping the ball up field. Bucknell-bound Corbin Lukanski and Villanova-bound LSM Jake Melchionni are two players that opposing coaches have to gameplan for, and they are supported by Fairfield-bound Julian Radossich, Franklin&Marshall-bound Nick Dotro, and Lafayette commit John Finkeldie. Penn-bound Aidan Troy has held it down in the cage, showing up when the lights have shined brightest on him to quarterback the defense. 
These two teams come into the game on conflicting roads. Both are fresh off county tournament championships, but the ways each won could not be more different. Seton Hall Prep has breezed through the season, their closest win being two four goal decisions over top-notch Chatham and Summit teams. That all changed in the Essex County Tournament Finals; the Pirates were pushed to the brink by a Caldwell team they beat 19-2 just two weeks earlier. Juhlin needed to deliver a game winner with four minutes left in the game to lead Seton Hall to a 4-3 victory. After their first test of adversity, they dispatched Livingston 13-3 and head into the year's biggest clash with confidence. Delbarton, on the other hand, has been rolling. The Green Wave are playing their best lacrosse at the right time heading into the home stretch to the state tournament. They dominated Mountain Lakes in the Morris County Tournament final from wire-to-wire behind a four goal, five point performance from Willie Doyle, lockdown defense from Melchionni and Lubanski, and a desire to keep the ball in their stick pocket the entire game. The 9-2 win started with a 6-0 lead heading into halftime. When Mountain Lakes narrowed it to 6-2 and started to show signs of life, Delbarton proved they had the killer instinct needed to win a state championship and put their foot down with three more goals. This ended the Green Wave's four year MCT title "drought" and gave them title 18 out of 35 tournament finals. These teams have been on a collision course all season, and the physicality will be next level with the inside track to a Fitch-Pitt division title hanging in balance. How Seton Hall fares in the faceoff battle against that two-headed monster of Trafford and Faccone will have a profound influence on the outcome. Both teams win the 50/50 battles to ground balls, so digging into the tank and giving that last ounce of energy is huge. This is not a game where either team has any points of weakness for the other to exploit, it will be decided when the ball is on the ground and the game is on the line.