Player of the Year Alex Kranzler is Dialed In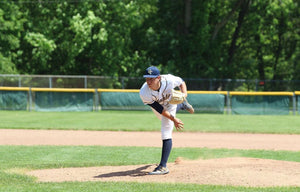 What are your thoughts on this past season?
I feel like I definitely did well but there is clearly room for improvement. My overall goal though, is to win. I feel that as a team we clearly did that very well and there's definitely a few games we wish we had back, but that is all a part of the process. We really focused on chemistry heading into the season since last year it seemed like a lot of guys were just playing for themselves. The coaches were a huge part of our success too since we weren't afraid to play small ball or win the mental battle. 
Describe yourself as a two-way player
I for sure see myself as more of a pitcher but I do enjoy hitting as well. I'm glad that I was able to help my team win in any way possible. Whether I went 0-3 with an RBI groundout or 3-3 with 4 RBIs, as long as we won I was fine with it. 
How Long Have You Been Playing Baseball?
It's been a lifelong thing. I've been playing since I was about 4 or 5. My dad was the one who got me into baseball. When I was younger he'd point the pitching machine to the sky and I would start to challenge myself to see if I could catch the ball like a pop-up. When I got to middle school I started to take it more seriously, but high school is where I cranked up the intensity and really focused on becoming the best player I can be. 
Recruitment Process
I was originally committed to Mizzou but decommitted after some coaching changes. Right now I'm more so just looking for the college that fits me. I have a few offers on the table but as of right now I'm focusing on improving myself as a player and a person before making a huge decision like that. 
Favorite MLB Team
I don't really have a set team that I support, I'm really just a fan of the game. Although, I am a big Max Scherzer fan and I lean towards where he plays so recently I've been rooting for the Mets and Max himself. 
How do you approach the field compared to real life?
When I'm on the field I'm really dialed in on what my task is. Whether I'm pitching or hitting I have the mentality that I have to be better than the guy I'm facing on the other team. I'm always fired up and ready to go in the box or on the mound. Off the field though, I'm more laid back and chill. In the dugout maybe I'll crack a few jokes and share some laughs with the guys because that's what it's all about. You can't forget to have fun regardless.
Photo provided by Nico DiMaria (_ndedits). Chris Baker from NJ Athletics. You can reach Chris on Twitter (@cbake_51) or you can reach him by email (cbake2025@gmail.com). Be sure to check out NJ Athletics on Instagram (@NJAthletics) and on Twitter (@nj_athletics)