NJ Football Week 8 - Games of the Week Preview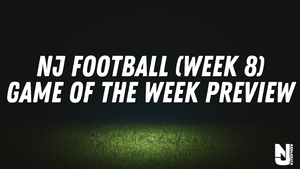 Middletown South Eagles - Donovan Catholic Griffins
    A giant divisional matchup Shore-American will unfold in Toms River at the campus of the Donovan Catholic Griffins. On the agenda are the Eagles of Middletown South. Donovan Catholic holds losses to the St Joe's Green Knights and Red Bank Catholic Irish. Similarly, the Eagles have lost their only game of the season to the Irish. Both teams are top players in their groups, with Donovan Catholic a very respectable five seed in the formidable Non-Public A bracket and Middletown South sitting pretty at the top of South Group 4. They also are both bringing in defenses that have been stout throughout the year, and Donovan Catholic has not let up more than six points in a win all season. Expect a heavily defensive battle to play out this week and a close battle coming down to the final quarter. 
Point Pleasant Boro Panthers - St. John Vianney Lancers
    The Point Pleasant Boro Panthers have cruised through their season to a 7-0 record and the number one spot in South Group 2. Their toughest test yet awaits them in Holmdel. The St. John Vianney Lancers started the season with a loss against Red Bank Catholic, before rattling off five straight wins. Hopes for a sixth were uphended last week in a surprise loss to Raritan. The Lancers are playing with a purpose going into the Non-Public A death rounds, also known as their playoffs, and want to avenge last week's upset by taking down one of the last of the undefeateds. This game will be ground-and-pound all the way, with both teams relying on their rushing attacks and good defensive performance. With the Panthers playing for an undefeated regular season and the Lancers looking for a huge morale win and momentum booster going into playoffs, expect a physical game in Holmdel.
Delsea Crusaders - St. Joseph Academy Wildcats
    Another game, another potential divisional champion crowning. The crown jewel of South Jersey in the Delsea Crusaders will take on the St. Joseph Academy Wildcats who have stuck to their hip in the WJFL-Independence standings. Delsea is considered one of the premiere teams in the state, while St. Joseph is looking for a big win to complete their resume. The Wildcats stumbled into the season with a 20 point loss to St. Augustine. They have been able to grind out wins left and right since. On the other sideline, winning games is almost a given at this point for the Crusaders. The Academy knows how to keep games close and surprise teams, with their ability to keep games close and clutch up at the end being the key to this game. Delsea has a tendency to run away with games, but this game is going one of two ways. The Crusaders will do what they have been all season and run away with it, or the Wildcats will do what they do best and keep the game close and pounce at the end. 
Cherokee Chiefs - Millville Thunderbolts
    The Cherokee Chiefs have had a very up and down season, but they are right in the thick of the divisional picture. The Millville Thunderbolts sit right there too. With a Lenape loss to St. Augustine Prep, which is very much on the table, the winner of this game will be crowned the divisional champion. The Chiefs are on a two game skid that has dropped them to 3-4, but Cherokee has seen what they can do as a team when they are playing their best. Millville on the other hand, has had a great season with close losses to great teams in Lenape and Irvington. Feeling they let a surefire divisional title slip away in that Lenape game, the Thunderbolts will come out blazing in this game. When you have playmakers littered across your roster like quarterback Jacob Zamot and athlete Lotzeir Brooks, Millville might only be scratching the surface of their potential going into the playoffs. Both teams are going to be playing like the division is on the line, no matter what happens in the Lenape game. Expect fireworks at Millville High School this weekend. 
St Peter's Prep Marauders - Bergen Catholic Crusaders
    The number two and number three ranked teams in the state will headline the Non-Public matchups this week. The second-ranked Bergen Catholic Crusaders have cruised since their loss to the state's best team, the Don Bosco Prep Ironmen, but will not be satisfied until they see them again. The next team standing in the way is the team they jumped in the rankings, the third-ranked St Peter's Prep Marauders. Bergen Catholic has a potent offense full of options, but it is not like the gunslinging style of St. Peter's. The Marauders are reliant on Maryland-bound Champ Long to deliver the ball across the field in order to win games. He did that last week with seven total touchdowns, four passing and three rushing, in an offensive outpouring of 70 points against Paramus Catholic. Dropping 30 points will be a tall task, nonetheless 70, against a Bergen Catholic defense that is among the best there is. Something fun to watch will be Long trying to stretch the pocket and avoid his future Terrapin teammate and Crusader star edge rusher DJ Samuels. The Marauders shootout offense and the Crusaders cutting defense will clash for one of the most strategic and talented matchups we have seen all year. 
Irvington Blue Knights - West Orange Mountaineers
    Irvington and West Orange are both teams that have been dominant throughout the year but have had their lapses. The Irvington Blue Knights have won a lot of games, even without quarterback Na'cir Ransom for the majority of this season. Last week against Livingston showed exactly why they have been successful, with superstar Notre Dame commit Adon Shuler rushing for 239 out of the Blue Knight's total of 566 yards on the ground. Irvington's two game skid came against a pair of good teams in close games to Seton Hall Prep and divisional foe Union City. They are sitting firmly in second place of the North Group 4 playoff picture so West Orange is a great matchup to rival that playoff intensity. The West Orange Mountaineers have had a good season, but game up short against North Group 5 rivals East Orange and Passaic Tech. Sitting at eleventh in the UPR, it's unlikely that the Mountaineers can obtain a home game. A win and some chaos would help their case, however. This is going to be the Group 5 team that no one wants as a first round matchup. Led by Saboor Karriem on offense and a plethora of studs on defense, the Mountaineers are not a team to take lightly in the coming weeks. This could be a back and forth game, with Irvington needing to bring their A-game against this West Orange squad
Caldwell Chiefs - Mountain Lakes Herd
    The Caldwell Chiefs and Mountain Lakes Herd will once again clash in a titanic matchup. It's the last game of each of their respective seasons, and will ultimately decide which leaves with their record unscathed through the regular season. Caldwell boasts the longest winning streak in the state, and the reigning Group 2 champions seem poised for a repeat. However, quarterback Luke Kurzum has not played in two weeks and no one knows when he will return. It's the wrong time of the year to miss your starting quarterback, but do-it-all superstar Harry Boland and junior running back Joey Marinello anchor an offense that plays in front of a stout defense. This will be their biggest test, traveling to take on the Herd at Mountain Lakes. Mountain Lakes continues to do what they have done for years. They run the ball down your throat and play top-notch defense. The team is getting healthy at the perfect time, with running back Jimmy Elliot returning last week and putting on a show with the rest of the ground group. The last time a Mountain Lakes team went undefeated was 2014 on their way to a championship. It was also the last time they beat this Caldwell team. Will history repeat itself? Or will Caldwell's state dominance continue for at least one more week?
Delbarton Green Wave - DePaul Spartans
It all comes down to this for the SFC-United White. The Delbarton Green Wave and DePaul Spartans will meet in Wayne under the lights of Friday night to crown a divisional champion. Both teams started off their respective seasons on rough losing streaks, but have rebounded in tremendous fashion. Delbarton looks like a trap team in the Non-Public playoffs, combining a balanced offensive attack with a stingy sense of pride and never-say-die attitude. Quarterback Robert Russo has been phenomenal down the stretch, and running back Ryan Trafford has had plenty of room to run behind his disciplined and fierce offensive line. DePaul brings a similar offensive attack with a deadly linebacking core. This game will be electric throughout the night with first place on the line, and both teams jockeying for a home matchup in the playoffs.
Wood-Ridge Blue Devils - Rutherford Bulldogs
    In another battle of undefeateds, NJIC foes the Wood-Ridge Blue Devils and Rutherford Bulldogs will further dwindle the number of undefeated teams left in the state going into playoffs. The Blue Devils hold the top seed in North Group 1, with a lot of credit given to their defensive unit. Nick Chromey has an absurd 83 tackles on the season, and he is flanked by Klejdi Elezaj with six sacks and Michael Marchitelli with a gaudy 52 tackles and three interceptions. Their offense is more than capable too, with quarterback Braden Negro managing a two back system of Brendan Pollio and Antonio Loyola. Pollio has 427 yards on the ground, with Loyola behind him at 330 and Negro contributing 317 rushing yards of his own to pair with 656 through the air. They will have to face off with the number two seed of North Group 2 in Rutherford. The Bulldogs are a team with equally eye-popping statistics on offense and defense. Quarterback Van Weber has passed for 1,166 yards with a ridiculous 21-1 TD-INT ratio. He has four receivers with over 100 yards, two with over 300. The rushing attack is just as good, with Nick Lora going for 735 yards on the ground and Cole Goumas with 553 of his own. The defense is led by Zach Herninko who has numbers across the board with 55 tackles, six for a loss, an interception and fumble. The defense has numerous players that make substantial impact and a slew of players that are tough to play against. This Bulldog offense and the Blue Devil defense will battle the entire night. This game will be a slugfest between two of the best in the state.