NJ Football Week 6 - Games of the Week Preview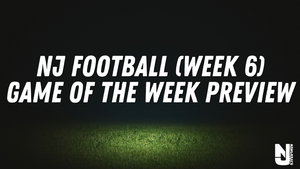 Delbarton - Pope John
    Delbarton is riding their Green Wave. They were the best 0-3 team in the state, and are marking their mark after two straight wins by 38 and 39 points. Quarterback Robert Russo is delivering the ball across the field, with running back Ryan Trafford complimenting him well. Seeming poised to win the United White, their journey will meet it's crossroads against the Pope John Lions. Pope John has accelerated onto the scene in head coach Dom Gaston's second year at the helm, amassing a 4-1 record with the only blemishing being a loss by a touchdown in the final minute to fifth-ranked Seton Hall Prep. Led by explosive running back Tylik Hill on offense and Harvard commit Sean Line on defense, the Lions have talent spread across the field. The biggest key to this game is how close it will be. Delbarton is 0-2 in games decided by a score or less, while Pope John is 2-1. With both teams running into the divisional gauntlet of their schedules, a win here may decide the United White champion. 
West Orange - East Orange
    Essex County comes alive this weekend, with these crosstown rivals meeting this week. West Orange comes in with one loss to PCTI, and a high ranking in the Group 5 playoff picture. Saboor Karriem has been all over the field and is his impact is felt in every game on both sides of the ball. He will be needed this week, matched up with Maryland-bound East Orange WR/DB Josh Richards. This is going to be one of the greatest one-on-one battles across the state for the entirety of the season. East Orange started on a big of a championship hangover, dropping their first three games before winning the last two. With the dominant East Orange team we are used to seeing back, and a West Orange squad looking for revenge and to further their status, this game is a must watch. 
Camden - Haddonfield
    A lot of division leaders meet this week, led by this WJFL-Constitution division matchup between Camden and Haddonfield. The High enters with high expectations, while undefeated Haddonfield wants to play spoiler against a divisional rival receiving all the hype. Led by transfer quarterback Deante Ruffin, Camden has yet to lose a game in the state. With a top ranking and state championship aspirations, a win against a perfect Haddonfield would only further their pursuit. Haddonfield feels disrespected across the state despite their perfect record, and a win in their toughest challenge yet against this high octane Camden team would cement them with the elite. 
Woodstown - Woodbury
    South Group 1 will have a marquee matchup this week, with the number one and two teams (according to UPR) meeting on the field. Woodstown rode a dominant defense and their run game to a nail biting win against highly-touted Salem. They sit undefeated and as the top team in the group rankings. Woodbury has scored 32 points or more in four of their six games. This offensive dynamo will clash with the best defense they have seen all season, and the outcome of this game might decide who walks out of the season with a one next to their name in the playoff bracket. 
Paterson Eastside - Old Tappan
    Old Tappan has rolled through their schedule to an undefeated record, and they do not plan on stopping anytime soon. Quarterback Tommy Caracciolo has thrown for 834 yards and has an impressive 13-2 touchdown-to-interception ratio. He leads the team along with leading rusher Aidan Heaney (634 yards) and a strong defense anchored by Dennis Delaney. On the other sideline will be the Paterson Eastside Ghosts. Ironically, the Ghosts seem to get better the closer we get to Halloween. With the holiday around three weeks away, they might have enough spiritual firepower to knock off one of the last undefeated teams in the state. On a slightly more serious note, Eastside has the tools for the upset. A very good defense paces the team, with an offense led by playmaker Romadon Adams who can take over the game. Old Tappan will need to come into this game ready, because the Ghosts are hungry. 
Lenape - Cherokee
    Lenape and Cherokee have had eerily similar seasons. Both started the season 0-2, before bouncing back with three straight wins, with one of those wins taking a ranking away from a team. Cherokee beat an undefeated Shawnee team to turn their fortunes around, while Lenape got their big win last week against an uber talented Millville squad. Both teams rely on the run game, but have quarterbacks that compliment their offenses well. Their defenses are similar too, with a high number of takeaways and a slew of players contributing across the board. In a strength vs strength matchup, the winner has the inside track to the WJFL-American. 
Camden Eastside - Burlington Township
    Camden Eastside's season has progressively gotten better with the passing weeks. After losing to Cedar Creek by a point, they pulled out a win against Willingboro. It gets even better this week, with five-star defensive lineman and Florida commit Will Norman making his debut after transferring back to Jersey from IMG Academy. Eastside will be taking on a 3-3 Burlington Township team that has been up and down throughout the season. Both teams need a win to stay in the playoff picture, and watching Norman take over the gridiron is on the must-watch list this week. 
Cliffside Park - Pascack Hills
    One less team in the state will hold the mantle of undefeated after this game, with Cliffside Park and Pascack Hills both holding perfect records. Park plays their games close, but finds a way to win them all. Their defense wins them games, allowing only 11 points per game. Hills is on the opposite side of the aisle, comfortable winning games all year. Senior running back Alejandro Camarena has ran for 600 yards and 12 touchdowns, while also pacing the team with 34 tackles. With both teams leading their respective divisions, this game will have impacts on state playoff seedings.