NJ Athletics 2023 Girls Basketball Player of the Year: Hannah Hidalgo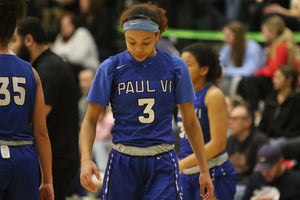 photo by Vinnie Lucia (@vinnie.pics)
Over the past four seasons, Hannah Hidalgo has been nothing short of exceptional for the Paul VI girls basketball team. As a superstar athlete with over 2100 points scored in her high school career, Hidalgo has proven time and time again that she is a force to be reckoned with on the court. With the season officially over, let's take a look Hannah Hidalgo's incredible 2022-2023 season, as our 2023 Girls Basketball Player of the Year. 
Throughout the 2022-2023 season, Hannah Hidalgo has consistently delivered extraordinary performances, guiding her team to numerous victories. Some of her most notable stats include:
On 12/15/2022, she scored 24 points against Seneca, adding 5 rebounds, 9 assists, and 10 steals.
In a close game against nationally ranked Long Island Lutheran (NY) on 12/17/2022, Hidalgo put up 29 points, 5 rebounds, 5 assists, and 8 steals, despite the team's 60-63 loss.
On 01/05/2023, she scored an impressive 40 points against Camden, contributing 6 rebounds, 6 assists, and 12 steals in a 97-56 victory.
Hidalgo had a phenomenal game against Westtown (PA) on 01/21/2023, scoring 48 points, grabbing 11 rebounds, dishing out 5 assists, and making 8 steals in a 72-69 win.
Hidalgo's season stats showcase her all-around game, as she accumulated 691 points, 153 rebounds, 122 assists, 7 blocks, and 176 steals in just 24 games.
Hannah Hidalgo's impact on her team goes beyond her impressive stats. As a natural leader, she has helped foster a positive and supportive atmosphere both on and off the court. Her work ethic, unselfish play, and commitment to excellence have inspired her teammates to push themselves and contribute to the team's success.
Throughout the 2022-2023 season, Paul VI has achieved a series of remarkable victories against tough opponents. Hidalgo's leadership and outstanding performances have played a pivotal role in guiding her team through hard-fought battles and establishing Paul VI as true national contender. This season they finished at #22 in the ESPN national rankings. 
With four outstanding high school seasons under her belt, Hannah Hidalgo's potential for a successful basketball career is undeniable. As a Notre Dame, we have seen her excel against some of the toughest teams in Girl's Basketball. There is no doubt she will continue to do the same at the next level. 
Hannah Hidalgo's extraordinary 2022-2023 basketball season has  once again solidified her position as a phenomenal talent in the New Jersey Basketball scene.