NJ Athletics 2023 Boys Basketball Player of the Year: Dylan Harper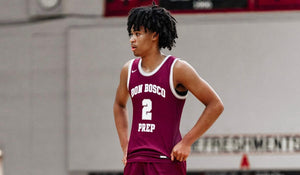 photo by: Max Molina (@maxmolina87)
The 2022-2023 high school basketball season in New Jersey has witnessed the rise of a star: Dylan Harper. As a key player for the Don Bosco Ironmen, Harper has shown high-level skill and playmaking ability, to make a direct impact on his team's performance. Take a look into Dylan Harper's incredible season, showcasing his achievements and his bright future in New Jersey basketball. 
Throughout the season, Dylan Harper has delivered outstanding performances in key games, leading Don Bosco to numerous victories. Some of his most impressive stats include:
In a hard-fought game against St. Peter's Prep on 12/17/2022, he scored 25 points, helping secure a 52-47 win.
At the John Wall Holiday Classic, against nationally recognized Corona Centennial, he scored 28 points with 7 rebounds in a 65-63 win. Later that weekend he scored 33 points on Farmville Central (North Carolina) as Don Bosco was deemed champions of their bracket. 
Harper put up an astounding 36 points against Camden on 01/06/2023, despite the team's 68-83 loss.
During the 01/12/2023 game against Bergen Catholic, he scored 25 points, grabbed 5 rebounds, and dished out 5 assists, leading the team to a 72-50 win.
Over the course of the season, Harper has shown consistency and versatility, amassing a total of 522 points, 62 rebounds, 30 assists, 9 blocks, and 12 steals in 21 games.
In addition to his individual accomplishments, Dylan Harper's impact on his team cannot be overstated. He has emerged as a natural leader, inspiring and motivating his teammates with his relentless work ethic and commitment to excellence. Harper's unselfish play style and willingness to make the extra pass have contributed significantly to the team's success, fostering a positive and supportive atmosphere on and off the court.
Throughout the 2022-2023 season, Don Bosco has secured several impressive victories against formidable opponents, demonstrating their prowess in the competitive New Jersey high school basketball scene. Under Harper's leadership, the team has been able to overcome challenges and come out on top in many hard-fought battles. These wins have not only earned Don Bosco a place among the top contenders in the state but have also showcased Dylan's essential role in driving his team to success.
As college scouts take notice and interest in his talents grows, there is no doubt that Dylan Harper is a name to watch in the following years to come. This season he has seen his national rankings jump as high as 10 spots leaving him at #2 in the Class of 2024. With offers from some of the biggest schools in the nation there has been a lot of buzz around his decision. Earlier this year, Harper announced a list of his top 5 schools, which include Aubrun, Duke, Rutgers, Kansas, and Indiana. He has not committed yet but wherever he chooses will have themselves a winner.
Dylan Harper's 2022-2023 basketball season in New Jersey has firmly established him as a superstar in the high school basketball community. With a bright future ahead, Dylan Harper is undoubtedly a player to keep an eye on as he continues to develop and reach new heights each time he steps on the court.