New Jersey Girls Basketball - 2023 All-State Third Team & Honorable Mentions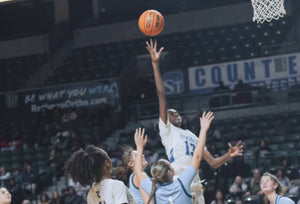 Photo by: Quincy Harris
From dominant scorers to eye catching play makers, the New Jersey Girls Basketball Third Team represent some of the best players in the state, who have distinguished themselves with their impressive performances throughout the season. We take a look at 5 more girls who are amongst the best in the state. Additionally, we name 11 honorable mentions who have made a very strong case this season. Take a look below and read more about some of the best talent this state has to offer. 
Mya Pauldo, Morris Catholic
Mya is a true leader on the court and despite having to share the ball with her twin sister, she is still able to produce over and over again. This season she scored 321 points along with 139 assists. On paper it may not seem like a lot, but what she does on the court plays a big factor in her team's success. Off the ball you will see her moving through sets, calling out adjustments, and making sure the offense flows perfectly. With the ball she is as sharp as ever. Her court vision is second to none and if necessary she will score from just about anywhere on the floor. Morris Catholic has had a very successful season and Mya's was a key factor in that success.

Te'Yala Delfosse, Ewing
The second part of Ewing's Big 3 comes in Te'Yala Delfosse. The Junior combo guard has been a key player in Ewing's success this season. Paired with 1st Team member Rhian Stokes and fellow honorable mention Joi Johnson, most would think production is slow. However, that is not the case as Te'Yala has found herself nearly 16 points a game. Defensively she has wrecked havoc on opponents averaging nearly 2 blocks and 4 steals a game. Her balanced style of play allows her and her teammates to continuously dominate on the floor.

Rylie Theuerkauf, Tenafly
If you have been following girls basketball these last 4 years, Rylie Theuerkauf should be no stranger. As a freshman she scored 500+ points and continued that streak every year since her first. This year she has once again shown her abilities to make plays. As a pure scorer, she averaged 28.6 points to finish 3rd amongst all girls. Her ability to score from almost anywhere on the court has been amazing to see and on the court has been the essence of her success. Out of the 24 games played this year, she has scored at least 30 points in half of them. Her biggest performance this year came against Ramapo in which she scored 41 points and had 13 rebounds to go along. There is no question that Rylie is a top player in the state and she has proved it time after time.

Devyn Quigley, Manchester
Devyn Quigley has put her offense on display this year. The junior guard has reached an incredible milestone as she scored 977 points this season. No, that was not a typo. She has averaged 34.9 points this season and a little over 11 rebounds to go along with that. In doing so she had 11 separate games with over 40 points and 10 separate games with 30 points. She was held under 20 points just 4 times this season. We know numbers are just numbers, but you have to tip your hat to an impressive season and give credit where it's due.

Katie Ledden, Rutgers Prep
Katie Ledden has been one of the most consistent players during her time at Rutgers Prep. As the number 2 scorer for the Argonauts both this year and last, Katie has found much success playing alongside Mikayla Blakes. This year Ledden averaged 15 points and 7 rebounds a game and Rutgers Prep had one of the hardest schedules in the state. To have a year like that speaks for itself. Aside from the numbers and statistics, something that really stuck out this year was her hustle. Wherever the ball was (or needed to be), she was. She wasn't the biggest in size but attacked the paint and always fought hard for a rebound. On the perimeter she had a bag of tools to score. Whether it be a three, dribble into a mid-range shot, or a drive to the basket, she put her bag on display. The senior has committed to Rhode Island and we look forward to seeing her compete at the next level.
Honorable Mentions
Hope Masonius, Manasquan
Daniella Matus, Morris Catholic
Isabella Asencio, Immaculate Heart
Faith Fedd-Robinson, Newark Central
Grace Kowalski, Montville
Destiny Bynum-Johnson, University
Rylee Drahos, Shore Regional
Taylor Derkack, Colonia
Jaylyn Orefice, Union City
Jaida Guerra, Union City
Joi Johnson, Ewing