New Jersey Girls Basketball - 2023 All-State Second Team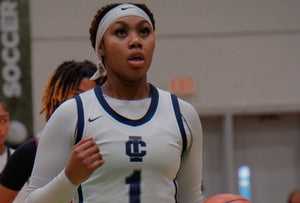 As the 2023 basketball season nears its end, the All State Second Team players have proven to be vital assets to their teams. Their abilities have significantly impacted the level of play on the court, contributing to their teams' successes throughout the season. From scoring crucial points to providing leadership, these players have made critical contributions when it mattered most. Below is a closer look at the talented individuals who earned a spot on the NJ Athletics All State Second Team.
Ally Sweeney, Sparta
Ally Sweeney has been a true star for the Spartans this season. She finished the season as top 10 scorer with over 22 points a game. Some of her biggest performances featured a 45, 33, and 35 point game in which her team has faced some tough competition. Aside from her impeccable scoring, she is also a very solid defender and tough rebounder. With high defensive awareness around the court, Ally has shown she is more than just an offensive weapon. The senior guard stands at about 5'6" but managed to average over 7 rebounds per game. As an all around star she does it what takes for her team to be successful.

Tyonna Bailey, Montclair Immaculate
Tyonnna Bailey is "must see TV". Her style of play has been so beneficial to Montclair Immaculate and their successful season. Her ability to score from anywhere on the court has opened up so many opportunities for the Lions offense and as a team leader, she made sure everyone was involved. With over 20 points a game, Bailey's exceptional performances against some of the top teams in the state have earned her recognition as one of the top players. Her skills and leadership will be sorely missed when she graduates.

Ashley Solfikanich, St. John Vianney
Ashley Sofilkanich has had a very solid season for St. John Vianney this year. The senior forward has been a versatile presence on the court, with an average of 11.2 points per game and 5.4 rebounds per game. Her numbers may not pop out but what she does on the floor is essential to her teams success. Addiitonally, Sofilkanich has proven to be a valuable defender, capable of guarding both in the paint and on the perimeter. Paired up with Zoe Brooks, Ashley has been a team player making contributions to all areas. Without her SJV's season may look a little different.

Quanirah Cherry-Montague, Atlantic City
Quanirah Cherry-Montague has had an impressive season for Atlantic City during the 2022-2023 girls' basketball season. The senior forward has been a key contributor on both ends of the court, averaging 17.3 points per game, 12.7 rebounds per game, and 3.5 blocks per game. Cherry-Montague's ability to dominate the boards and protect the rim has been crucial to Atlantic City's success this season, leading her team to a 22-6 record. Her consistent scoring and rebounding performances have earned her recognition as one of the top players in the state. She is set to attend Mississippi State this fall and will be sure to impress at the next level.

Alexis Davis, Woodbury
Woodbury High School's Alexis Davis has been a standout player during the 2022-2023 girls' basketball season, dominating on both ends of the court. The senior guard has been an integral part of her team's success, averaging an impressive 25.5 points per game and 20.2 rebounds per game. Davis' scoring and rebounding abilities have placed her a top-5 scorer in the state while also becoming the rebound leader with nearly 5 more rebounds over the second highest. She has hit the double double mark in all 21 games shes played this season and even wrapped up the year with four different 30/20 games. There is no doubt what Alexis can do and why she ranks among the best of them.