New Jersey Girls Basketball - 2023 All-State First Team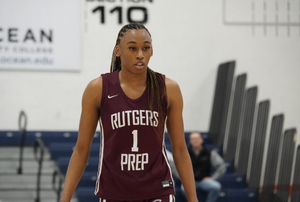 photo by: Vinnie Lucia (@vinnie.pics)
As the 2023 high school basketball season comes to a close, it's time to honor the top performers who have shined on the court throughout the year in the state of New Jersey. These players have exhibited exceptional skills and leadership, both on and off the court, and have distinguished themselves as some of the most talented and dedicated athletes in the state. From their impressive performances, clutch moments, and consistent excellence throughout the season, the 2023 All-State First Team represents the pinnacle of achievement in New Jersey basketball.
Mia Pauldo, Morris Catholic 
This year, Mia Pauldo continued to shine as a leader for Morris Catholic. Only a sophomore, she demonstrated her exceptional talent and versatility on the court by scoring 493 points and providing 145 assists in 28 games. Her impressive statistics once again led her team in scoring assists, and steals. Her biggest games this season came against a nationally ranked Montverde (FL.) team where she scored 29 points in a tough loss and then a few weeks later where she scored 26 points to win the Non-Public B title over a very tough Rutgers Prep. Mia has been a star all season and leaves no doubt about her position as a 1st Team All State member.  
Hannah Hidalgo, PaulVI
Hannah Hidalgo is no stranger to the New Jersey Basketball community. The senior guard and Notre Dame has left it all on the line throughout the last 4 years. This season she showed why she was one of the best in the nation as she wrapped up her senior campaign averaging over 28,6,5 a game. Additionally she totaled over 7 steals per game to show she is a well rounded player and not just a scorer. She has had some insane performances but the biggest one this year came against Westtown (PA.) where she scored 48 points, 11 rebounds, 5 assists, and 8 steals. As a leader for her team, PaulVI has seen a ton of national recognition. ESPN marks them as the 22nd best team in the entire nation and Hannah's contributions are a reason why. 
Zoe Brooks, St. John Vianney
Another well known star in New Jersey Basketball makes her way on the list. Zoe Brooks has been one of the best in the state for quite some time. Her diverse skill set has been put on display almost every game and St. John Vianney has been very successful because of it. This season, Zoe has hit career highs in points scored, rebounds, and steals. Unfortunately, due to a minor injury we have seen Zoe miss a few games or restricted on playing time but this did not slow her down one bit. With over 20 points per game, she led a well balanced team to some huge wins. Her most memorable performance came over (at the time) #1 Long Island Lutheran where she scored 30 out of the team's 59 points to bring her team victory. With Zoe on the court, the Lady Lancers have not seen a single loss this season in both State or National competition. 
Mikayla Blakes, Rutgers Prep
Mikayla Blakes has had an impressive showing all season. The junior guard has put her skills to the test as she averaged 22 points scored per game with the ability to score from anywhere on the floor. Rutgers Prep has been in some absolute battles this season and Blakes has led the charge each time. Early in the season she went back and forth with Morris Catholic's offense and ended up with 31 points in a very close match up. She later went on to score 35 points against PaulVI who is as good as they come. The success of her season has put the Argonauts in the national spotlight a few times as well as they float right outside of the ESPN Girls Basketball rankings. 
Rhian Stokes, Ewing
Rhian Stokes has been a force all season and Ewing's success is to show because of it. The Junior guard has attacked the ball from every angle this season. She finished the year with over 600 points, 200 rebounds, 200 assists, and 200 steals within 33 games. In doing so, we have seen her accumulate 4 triple-doubles, along with a few double-doubles that were very close to seeing double digits in another category. Aside from her impressive offensive numbers, Rhain has played defense really well against some of the top teams across the state. She truly has a well rounded skill set and within a few minutes of watching her play, you can see why she belongs.