New Jersey Basketball Rankings as of February 1st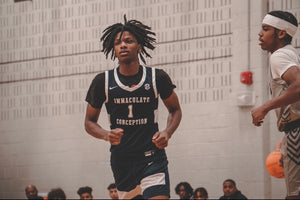 We've had some great action last week, as the end of the season draws near and teams get ready to gear up for the postseason. A few key matchups created a little shake up in the Top 20 rankings for this week.
Camden moves in to the #1 spot for the first time this season. They picked up key wins against some tough opponents last week. The High took down #15 Camden Catholic, Paul VI, and nationally ranked Imhotep Charer (PA). 
Trenton slides back into the Top 20 after defeating CVC rival Ewing, who held a 17-1 record. The Tornadoes are rolling on a 4-game win-streak coming into this week and are looking to keep their loss column to just 1 the rest of the season.
Montclair Immaculate jumped up a few spots after defeating #17 Arts. TJ Robinson helped lead IC to an impressive comeback, where they trailed by as much as 15 points. 
Paterson Eastside cracks the Top 15 after, what could be the best win of their season, taking down #14 Gill St. Bernard's. Senior guard Bryce Stokes put the team on his back with a season-tying 34 points. 
Who will take the top spot and who will take a tumble? See our updated list below.
Camden 
Roselle Catholic
Don Bosco
Ramapo
St. Thomas Aquinas 
St. Peter's Prep 
Bergen Catholic
Seton Hall Prep
Manasquan 
Rutgers Prep
St. Rose
Teaneck
Paterson Eastside
Gill St. Bernard's
Camden Catholic
Montclair Immaculate
Arts
Trenton
Camden Eastside
Linden