New Jersey Basketball - 2023 All-State Second Team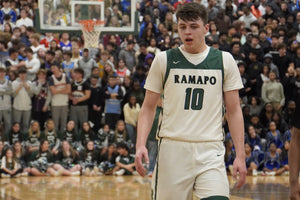 As the 2023 basketball season draws to a close, it's impossible to overlook the impact that the All State Second Team players have had on their respective teams. These players possess a combination of raw talent, skill, and determination that has elevated the level of play on the court. With their impressive performances, they have demonstrated their ability to make their teams win. Whether it's scoring crucial points, making key defensive stops, or providing valuable leadership, each player has been instrumental in their teams' successes this season. Let's take a look at the NJ Athletics All State Second Team below:
G: TJ Robinson, Montclair Immaculate
TJ Robinson's return to Jersey was long awaited, and it was worth the wait. Robinson spent his previous season playing for Bishop Walsh (MD), before transferring to Montclair Immaculate for his junior season. Robinson was the leading scorer for IC, averaging 21 PPG with one of the toughest schedules in the state. Robinson has had huge performances all season, scoring 28 in the state tournament against Gill St. Bernard's, 31 vs nationally ranked Roselle Catholic, and a whopping 50 against Dwight-Englewood. Being one of the best scorers in the state, TJ Robinsion earned his spot atop the All-State 2nd Team. 
G: Darius Adams, Manasquan
Darius Adams made a point this season that he is among the best guards in the state. Adams averaged 20.4 PPG during his sophomore campaign. Adams had 3 30 point performances, scoring a career-high 34 in the process. Manasquan was one of the best teams in the state this year, ending on a high note with a Group 2 Championship. The second year guard dropped a 22 point double-double to lead the Warriors over Caldwell. 
G/F: Peyton Seals, Ramapo
Peyton Seals was the top scorer on a Ramapo squad that was one of the best teams in the state all season long. The junior guard averaged 18.5 PPG this season and had some memorable scoring outings against top tier competition. Seals dropped 30 in a win over Montclair Immaculate, 29 in a win against Bergen Catholic, and 31 to take the North Jersey, Section 1, Group 3 Championship. Seals' scoring prowess played a huge factor in Ramapo's impressive season that eventually ended in a Group 3 Championship.
F: Tyler Tejada, Teaneck
Tyler Tejada had an absolute monster season, averaging 23.5 PPG, 10.3 REB and 3.7 AST/G. Teaneck had a tough schedule, so Tejada was putting up impressive numbers against top competition. The senior big man dropped 24 points and 11 rebounds in a win against Paterson Eastside and 26 points and 16 rebounds while taking down Montclair Immaculate. Tejada also scored a career-high 40 points against Bergenfield. Teaneck had a solid season, compiling an impressive record of 23-6. Although their season got cut short in the North Jersey Section 1 Group 3 Finals, Tyler Tejada's amazing season will not go unnoticed. 
C: Jordan Summers, Bound Brook
Jordan Summers had an outstanding season, leading Bound Brook to a 22-5 record. Summers did it all, as he averaged 25.5 PPG and 11.4 REB/G. The senior big man put up huge numbers against solid programs. Summers dropped 39 points and and 12 rebounds against #18 Rutgers Prep. Jordan had 30+ points 7 times this season, along with 23 double-doubles. Although Bound Brook fell short in the state tournament, Summers had one of the best seasons this year.