New Jersey Basketball - 2023 All-State Third Team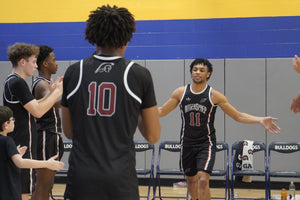 The New Jersey All State Third Team players have left their mark on the 2023 basketball season with their exceptional talent and unwavering dedication to their teams. With their ability to make game-changing plays and lead their teams, they have been invaluable contributors to their respective programs. The All State Third Team players have consistently showed their versatility, the ability to score from anywhere on the court, and play tough defense. Their contributions to the game of basketball in New Jersey have been remarkable, and they have proven that they belong among the state's best players.
G: Mario Castro-Sanchez, Gill St. Bernard
Mario Castro Sanchez decided to get his last licks of high school basketball in one of the best basketball states in the country, as he transferred to Gill St. Bernard's from Spain. Castro-Sanchez instantly made an impact for GSB, as he scored 34 points in his first game in New Jersey. The senior guard averaged 21.8 PPG this season. Mario's biggest performance came by way of a season-high 36 point performance in a win against #18 Rutgers Prep. Castro-Sanchez was impressive all season, scoring in double figures in 26 out of 27 games. 
G: Jadin Collins, Rutgers Prep
Jadin Collins was a straight bucket all season, as he averaged 20.5 PPG over 30 games. Collins led a solid Rutgers Prep Team to a 22-8 record, which is more than impressive given their strength of schedule. Collins' top performance came in the Quarterfinal Round of the South Jersey Non-Public A Tournament, scoring a season-high 33 points to lead his team to a win over St. Augustine Prep. The Marist commit impressed all season and was a big factor in Rutgers Prep's success this year. 
G: Josh Ingram, St. Joe's Metuchen
Josh Ingram, from St. Joseph's (Metuchen), had an impressive season, averaging 21.6 points per game while pulling in a consistent number of boards off the glass. Ingram's talent on the court was crucial to the success of his team, as he led them to several victories throughout the season. With a season high of 38 points and five 30 point games, Ingram proved to be a formidable force on the court. Known for his aggressive dunks, the Senior also showed he is more than just a high flier. With one of the top points scored in the state, Ingram put his bag on display this year to prove he is up there with the rest. This was his best season yet and a great future in basketball is ahead. 
F: Bryce Stokes, Paterson Eastside
Bryce Stokes, a senior guard from Paterson Eastside, had an incredible season on the hardwood. Averaging 18.9 points per game and 6.8 rebounds per game, Stokes was a key player and played a very important role in his team's success, who was atop of the state rankings all season. Stokes' most impressive performance came from a 34 point game in a win over #19 Gill St. Bernard's. Bryce helped lead the Ghosts to a Group 4 title, capping one of the best seasons Paterson Eastside has had in a long time. 
F: Akil Watson, Roselle Catholic
Watson was part of Roselle Catholic's all-star lineup, being teamed up with fellow All-State team members Mackenzie Mgbako and Simeon Wilcher. The senior forward averaged 12 PPG and 4 REB/G this season, as he was the Lion's third leading scorer. Watson's biggest game came in the last of his high school career, as he scored 23 points against St. Rose to win the Non-Public B Championship. 
6th Man: Preston Brown, Paterson Eastside
Preston Brown played an important role alongside All-State team member Bryce Stokes in the success of Paterson Eastside's Group 4 title run. Brown also averaged 18.9 PPG on the season, dropping buckets at a high level all season. The senior guard scored 30+ points 4 times, including a season-high 41 in a win against Passaic.