New Jersey Basketball - 2023 All-State First Team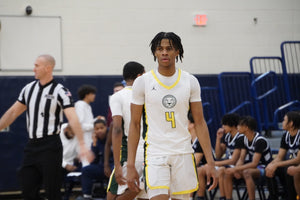 As the 2023 high school basketball season comes to a close, it's time to honor the top performers who have shined on the court throughout the year in the state of New Jersey. These players have exhibited exceptional skills and leadership, both on and off the court, and have distinguished themselves as some of the most talented and dedicated athletes in the state. From their impressive performances, clutch moments, and consistent excellence throughout the season, the 2023 All-State First Team represents the pinnacle of achievement in New Jersey basketball.
G: DJ Wagner, Camden
Wagner puts yet another dominant season in the books, as he finishes his senior year averaging 22.5 PPG, enroute to scoring his 2000th career point. Wagner led his squad to a 23-2 record with their only losses coming from out of state competition. DJ dropped 40 points twice this season and his most notable performance was a 22 point outing against nationally ranked Imhotep Charter in which Camden won to solidify their national ranking. These past 4 years have been everything and more for the third generation Camden star as he proves once again that he is still a top dog in the country. 
G: Simeon Wilcher, Roselle Catholic
Wilcher had another solid season for his senior campaign as he averaged 15 PPG. The senior guard led the Lions to a 22-5 record, along with the Non-Public B Championship. Wilcher was the leading scorer on a star-studded Roselle Catholic squad that did not taste defeat against in-state competition. Wilcher's best performance came against a top 5 team in the state, where he scored 27 points on St. Thomas Aquinas. With Roselle Catholic, having to distribute the ball amongst a stacked roster, Simeon was still able to show that is a true leader and can take over a game when needed. 
G/F: Dylan Harper, Don Bosco
Harper has proved this year that he belongs in the conversation when talking about the best athletes  in the country. The junior averaged 25 PPG and led Bosco to one the most impressive seasons we saw this year. Harper and company faced some of the best competition in the state and country all year, and Harper came to play each time. Harper dropped 36 points on Camden and 27 on Roselle Catholic, both of who are nationally ranked. On top of that he put the nation on watch when he dropped 33 points on Corona Centennial at the John Wall Holiday Invitational. The Ironmen fell short of the Non Public Championship, but Harper's spectacular season led Bosco to #3 in our state rankings.
F: Mackenzie Mgbako, Roselle Catholic
Mgbako joined up with fellow first-team member Simeon Wilcher at Roselle Catholic this offseason and proved that he made the right decision. The senior forward averaged 16.2 PPG and 9.1 REB/G for the Lions. Mgbako's best performance came against Montclair Immaculate, where he scored 34 points and grabbed 12 rebounds. The Duke commit is not only one of the best players in the state, but in the entire country, ranking #7 in his respective class.
C: Aaron Bradshaw, Camden
Camden's big man, just as every other first-team member, is ranked in his respective class, coming in at #4 in the country for the class of 2023. Bradshaw averaged 12 PTS and 9.4 REB/G on the year. To the naked eye these numbers might not jump off the page, but when you look at the competition Camden played all year, these numbers prove to be impressive. Bradshaw's highest scoring outing came against a Top 20 program in St. Augustine, where he dropped 22 points. Defensively Aaron Bradshaw wrecked havoc on opponents trying to score in the paint. With nearly 2.5 blocks a game, the senior Center did not let any easy baskets up.  Aaron will be joining his current teammate and fellow first-time member D.J. Wagner at Kentucky next season