Morris County Tournament Preview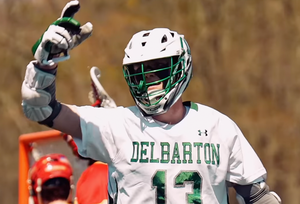 The Favorite: Delbarton
The Green Wave are looking to claim their 18th Morris County Tournament title in it 35th rendition. Delbarton has rolled through its state schedule and has taken up the challenge of facing some of the country's top teams; these include matchups against the consensus number one in St. Anthony's (NY), 16th ranked Chaminade (NY), and 22nd ranked Malvern Prep (PA). This battle-tested team already holds regular season MCT wins over second-seeded Mountain Lakes (8-4), third-seeded Chatham (11-6), and fourth-seeded Randolph (16-5). They will ride a stifling defense anchored by Fairfield-bound Julian Radossich and Villanova-bound LSM Jake Melchionni. The offense will be paced by Bates-bound Gray Doyle (16 goals, 17 assists) who leads the team in every major offensive category. This group will have to kick it into a new gear, with scoring being an issue at times throughout the season. They should have plenty of possession to set up, as Lafayette-bound Nick Faccone and Navy commit Ryan Trafford are combining to win 60% of draws. Another key part of this team will be the play of Penn-bound Aidan Troy in net, who will be relied upon when the competition heats up in its later rounds. Can the Green Wave reclaim their spot on top of the Morris County mountain? It sure looks like it, but anything can happen.
Who Comes Second: The Cougars or The Lakers?
The one and two seed in this tournament are almost always the Green Wave and the Mountain Lakes Lakers. The Lakers take the two seed again, but the upstart Chatham Cougars have something to say this year. Going into the seeding meeting, both teams held impressive resumes. The Lakers rode their all-around game starting in net with Salisbury-bound Matt Sentowski, moving to a standout defense led by Lafayette-bound Gavin Ananian, and moving to offense with Bryant committ Jordan Hernando on the draw and junior Giacomo Bevacqua leading the attack. This team had quality wins over Top 20 teams in St. Joseph Regional and Bergen Catholic, a win over a Randolph team that has been sniffing the rankings as year, and a 8-4 competitive loss to Delbarton. On the day of that seeding meeting, they suffered a crushing 10-1 defeat to a Top 5 team in Don Bosco Prep. The Cougars, on the other hand, were displaying a highly defense game from midfieldiers like Virginia commit JP Lagunowich back to the poles like Ronan Curry. Kenyon-bound Jac Dimaculangan has held down the fort in net while Doyle Curry has popped goals left and right to pace the offense. This team held close losses to the state's top two in Delbarton and Seton Hall Prep, as well as wins over #12 Pope John, two Fitch-Pitt opponents in Montclair and Scotch Plains-Fanwood, Randolph, and a win over #4 Summit on the day of the seeding meeting. If this teams can make it through to the semifinals, it will be a colossal matchup that should really pinpoint where Chatham stacks up in the state. Look out for this potential showdown, it may be the best we see.
Making Some Noise
Anything can happen when a goalie gets hot, and the Morris Knolls Golden Eagles have a great candidate in Manhattan-bound Ryan Beller. The Golden Eagles are very raw and untested coming into this tournament as the five seed, especially when looking at the gauntlet the first four have went through. They do still sit at 7-1 and have a faceoff man winning 58% of the time, a standout goalie, and five players with 20 points or more, including Nick Forgione (26 goals) and Jack Martinez (17 assists, 34 points). Morris Knolls will have to take on a gauntlet starting with Kinnelon, and looking to progress through a bracket that can include matchups with Randolph and Delbarton just to reach the finals and meet an awaiting Mountain Lakes or Chatham squad. Keep and eye out for these Golden Eagles, behind Beller they have an opportunity to soar.
Finals Prediction:#1 Delbarton 9 - #3 Chatham 6