Meet MLB Draft Prospect Caden Dana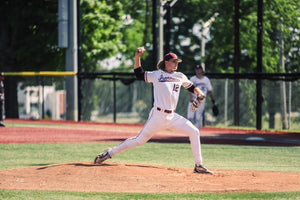 I was given the chance to interview one of the top players in the state, Caden Dana. The Kentucky commit got it done on the mound, striking out 70, giving up 30 hits, and only allowing 9 earned runs in 47.1 innings giving him a 1.33 ERA. The senior right hander is also looking for his name to get called sometime between July 17-19 in this year's MLB draft. 
What was it like capping off your high school career with a state championship and sectional title?
The sectional title was fun and we looked at it as our bridge to the state final. Essentially it was a "semifinal" regardless of the label as we advanced. The two games leading up to our matchup with St. Augustine really helped us prepare for the road ahead. St. Augustine was no easy task so beating them felt good especially with us getting to cement ourselves as the best in the state. 
How did the MLB recognition come about?
It really started over this past summer. I had gotten some college recognition after my sophomore year but once I had started to work with an adviser and play in more national showcases, the MLB scouts started to take notice. I really enjoyed competing with some of the best talent across the country as well. 
What was the draft process like?
I just got back from the combine and it was a fun experience. There were about 11-12 teams scouting guys during the intersquad games while others were having meetings with other players who weren't participating in the activities. I personally met with a few teams and didn't partake in any of the games or bullpen sessions because of the timeline of when I last threw and played to when I arrived in San Diego.
Teams Interested In
I don't really have a specific team I'm interested in playing for. I just know that whatever team takes me I will give them 1000% in everything, everyday.
Who is your favorite baseball team?
My favorite baseball team is the Boston Red Sox. My grandad worked at Fenway and my grandparents are from Boston so it just got passed down to me.
Why Kentucky?
It felt like home when I got to campus. The facilities and coaches just seemed to be the right fit for me. I was comfortable and I felt like it will benefit me in the future. 
Major at Kentucky?
I plan on majoring in business. One of my sub-majors is accounting and I really want to learn how to run my own business.
Photo by @zq.photos (instagram). Story by Chris Baker from NJ Athletics. You can reach Chris on Twitter (@cbake_51) or you can reach him by email (cbake2025@gmail.com). Be sure to check out NJ Athletics on Instagram (@NJAthletics) and on Twitter (@nj_athletics)