London Carson's Quest to Elevate as a Top Player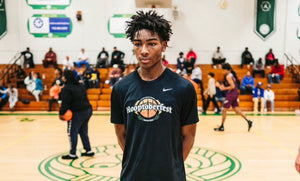 In the state of New Jersey, you have your fair share of players who are able to enjoy the spotlight and attention from numerous fans across the state. With this attention, these certain players are able to enjoy constant focus on their on court skills and progression as they rise through the ranks of high school and even college basketball. But there are also some players who do not share the same attention. Even though they may be as talented as some of the best, they seem to go under the radar compared to someone you may follow every step of the way.
This is the exact case with London Carson, a 6'4 rising senior guard for Elizabeth High School. After a tremendous junior season in which he averaged 14.5 points PPG to lead the Minutemen to the Union County semifinals, Carson's name has yet to be catapulted to being mentioned as one of the better players around the state. This needs to be changed as soon as possible. Carson has the ability to be a Division 1 player, and he dedicated to developing as a basketball recruit. 
"Most mornings, I go to the gym and I work on my game on all five spots on the floor," Carson said. "While I'm at each spot, I work on different finishes, my mid range game, and my three point shot. I also have been learning how to use my body, so that when I go to the rim and perform different moves I can be able to maneuver through defenders."
Building skill set is necessary for players who are trying to not only play at the next level, but be successful at the next level as well. Out of millions of high school basketball players every year, only a small percentage are able to go to college and continue playing. With Carson's ability and mentality, there is a belief within him that he can be in that small percentage.
"I believe I will be able to adapt to the college game quickly," Carson expressed. "Because I already follow a tough regime with basketball workouts and hitting the weights and my school work, it will not take me long to get adjusted to a program that requires that."
As a college athlete myself, the amount of focus and determination you have to have in order for you to have a good career has to be high. It is not easy to wake up and know that you have multiple workouts to go to along with class. But a person like Carson understands that you have to go through the journey to have a great result. That is what will separate him from every other player that stands in his way.
There is another thing, though, that motivates Carson besides being a great basketball player. Carson's parents, who are responsible for helping him go through his daily schedule, are the reason why the Elizabeth guard stays motivated with his goals.
"My parents have a great impact on me on and off the court," Carson said. "They bring me to every workout, they have helped me get memberships to gyms, and most importantly they have helped me navigate my life. I am glad I have parents that can shape me to be a great person in this society."
Throughout the year, make sure you keep up with the name London Carson. Because not only will you hear about how successful Elizabeth will be this season, but you will also see how great he is as a player and a leader at the same time.