Leanpe Claims South Jersey Group 4 Title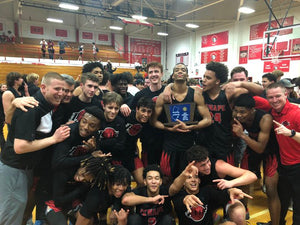 Monday afternoon, there was a line stretching from the hallway leading into the gym doors at Cherry Hill East all the way out to Kresson Rd. where the school is located. The fans were ready for playoff basketball. It was about an hour before tip off and the gym was already packed to capacity on both levels. The Lenape and Cherry Hill East student sections filled up both sides of bleachers with their team colors. Lenape students in black and East's students in red. Things felt normal with no masks, a filled to capacity gym, and most of all, a sectional title being played for.
As the game tipped off, the gym would not be silent until after the postgame celebration of the winning team ended. Both teams traded baskets down low. From then on, Lenape jumped out to a 11-5 lead after the 1st quarter ended. Cherry Hill East stormed back in the second quarter to give Lenape a scare with a pair of Jake Green buckets. One from beyond the arc and the other a layup under the basket. Tekie Clark and Derek Simpson cashed threes of their own for Lenape along with Tayvon Gaither knocking down a single free throw to put Lenape up 18-16 at the half. The second half was nothing short of electric either. To open it up Derek Simpson grabs a steal and then slams it home on the offensive end. Aidan Anderson got himself on the scoresheet in the third as well putting up a layup and also knocking down a pair of free throws. East's Jalen Holmes hit two big corner threes to pull within 4 after three as Lenape led 28-24.
Once the 4th quarter started, a switch turned on in Tayvon Gaither's head that led him to lock in and catch fire. Gaither opened up the final quarter with a pair of threes at the top of the key, and from there on out, it was all Lenape. Derek Simpson decided to get in on the fun to extend the lead even further. Drew Greene tried to give the Cougars life but it went without any support. After a Tayvon Gaither and-one with 33.5 seconds left on the clock, it was all over and the Lenape students knew it.
The final horn sounded and the celebration began and Lenape became South Jersey Group 4 champs. Tayvon Gaither described today as "just another game". "This is just one step closer to what we've been living for. We have two more state playoff games and then hopefully we make the Tournament Of Champions". Gaither said that after his big game against Egg Harbor Township he knew he had to stay "mentally locked in and that he was coming to play no matter who it was against". Gaither credited the attendees of the game for making the game exciting and enjoyable to play in.
This was head coach Matt Wolf  first sectional title at his since taking over the position. Wolf feels "very proud" of his guys and he credits them for being good kids off the court as well which he says makes his job easier. Wolf told his players that the crowd might be like one they've never played in before and his message to them was "Just let your play do the talking". Coach Wolf plans to keep using what has given them success as they will face off against the Central Jersey Group 4 champion, Marlboro Wednesday night at Egg Harbor Township in the state semifinal game. 
Chris Baker from NJ Athletics. You can reach Chris on Twitter (@cbake_51) or you can reach him by email (cbake2025@gmail.com). Be sure to check out NJ Athletics on Instagram (@NJAthletics) and on Twitter (@nj_athletcs)