Just the Beginning for Julia Apostolakos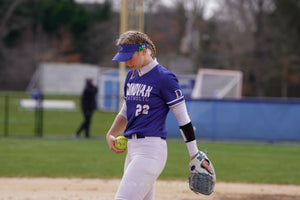 I had the opportunity to talk with the incredible Julia Apostolakos. The Donovan Catholic two-way standout is not just one of the top pitchers in the state, but a top overall player. She currently sits at 10 hits away from the prestigious 100 hits mark and is 4 strikeouts away from the 300 career strikeouts mark. The most surprising part about this all is that she's only a junior playing without a freshman season due to the pandemic! 
What do you feel has been the key to your team's success this year and even last year?:
We're big believers in giving our 1000% effort into everything. Whether that be every pitch, every swing, every time we field a ball that comes our way, literally every single thing. Another thing is that after the pandemic canceled the 2020 season we emphasized having a tight bond on the team which has created a chemistry among our team like no other. 
What were a few top colleges in your recruiting process?:
A few colleges I really gave a liking to in the recruiting process were Middle Tennessee State, Monmouth, and University of South Florida. I liked Monmouth because it's not far from home and I liked having the idea of being close to family. Same thing with Middle Tennessee, I have family down there and it's not too far from where they're located. I fell in love with USF though during the visit. Although my dream school was Georgia growing up, I ultimately chose South Florida. 
Why USF?:
I visited all of these schools and none of them felt like home except for USF. When I went on all of these visits and checked out all of the facilities and got to meet some of the teams, it just didn't feel like a place I could see myself in. Fortunately when I went to visit USF, I immediately had the feeling of "This is the one. This is home." It was even more confirmed when I met the coaches, some of the girls on the team, learned more about the school itself, etc. USF truly does feel like my home for the future. It's not just a place where I'll be playing softball. 
What was the process of joining the Greek national team like?:
I got a call one day asking about my background and my Greek roots and next thing I know I spent a bit of time practicing and training with the team and before I knew it I was on the Greek national team. I'm really excited for this summer though, we get to compete in the European Softball World Cup tournament in Spain. 
How long have you been playing softball?:
I've been playing softball ever since I was young. I used to watch my sister's games growing up and it was something I picked up and never looked back on. 
What are some of the highlights in your career?:
Just being able to play softball after the 2020 season being canceled and not having a freshman year. Obviously getting to take home just about every piece of hardware possible last year was a great feeling. Hopefully this year we can replicate last year's regular season and postseason success. 
Are there any other sports you do?:
I'm actually a huge fan of doing powerlifting. Believe it or not I hold a few world records. It's a really huge passion of mine and I take it very seriously. 
How do you balance all of your activities?:
Time management has helped me a lot. I like to be very routine based with my activities. I pretty much have a schedule of how I plan my days out and adjust if something pops up.
What has been one of the toughest things throughout your career?:
One of the toughest things I've done is have to bear down in the final inning of a game when I'm drenched in sweat and it's a close game and I know that pretty much every single set of eyes at the game is on me. I know that I have to do anything and everything in my power to will myself through the inning to help my team win. It's something I really embrace though. 
What has been one of your biggest things you have developed over the years?:
My competitiveness and my drive to succeed constantly has been my biggest area of development. Growing up with sisters all playing the same sport is really going to bring out the competition from all of us. It's all out of love at the end of the day, we just want to see each other succeed. 
Are there any skills that you have learned that you translate to things on or off the field??:
I personally feel like my leadership has helped me gain a lot of success. I realize that especially on the field if you lead by doing the right thing, everyone else will follow. Being a leader means you have eyes on you at all times which will definitely push you to do the right things. 
What do you enjoy most about sports?:
Having fun and knowing it's something you will not do forever. It's a thought that I feel a lot of athletes should carry with them. You should have fun and constantly push yourself to do your best always because one day at the snap of a finger it could all be gone. Never take anything for granted and make sure to have fun while competing in anything. 
Anything else to let the audience know?:
To end the taylor ham and pork roll debate, it is pork roll. NOT taylor ham. 
Chris Baker from NJ Athletics. You can reach Chris on Twitter (@cbake_51) or you can reach him by email (cbake2025@gmail.com). Be sure to check out NJ Athletics on Instagram (@NJAthletics) and on Twitter (@nj_athletics). Photo by Elena Markatos (@lenamarks).