Jimmy Mullen Ends Career with 3rd State Title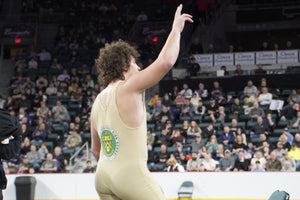 Jimmy Mullen's victory in the New Jersey Wrestling State Tournament was the culmination of an impressive high school career that has seen him dominate the competition year after year. In his final match he was met with a very familiar face in Max Acciardi. The two have been wrestling each other since their freshman year and Jimmy has raised his hand ever since. This time around, Acciardi gave the nationally ranked heavyweight a run for his money. 
The match began with both wrestlers displaying impressive skill and technique, but neither was able to gain a significant advantage. Mullen's opponent was a formidable foe who had been a dominant force throughout the tournament, but Mullen remained calm and focused, waiting for his opportunity to strike.
The first two points were earned by Jimmy as he landed a single leg snatch on the edge of the mat. Acciardi battled it off for quite some time but Jimmy eventually locked it in. However, the real excitement came at :43 second mark in the second period when Max pulled off a clean fireman's carry nearly putting the returning champ on his back. In a very rare instance, Mullen headed into the final period down 3-2. 
After getting up pretty easily, the tension in the arena grew, with fans on the edge of their seats as they watched the two wrestlers come to a 3-3 tie. Both battled with many attempted takedowns. but nothing came about. That was until the final seconds of the match. In a stunning display of athleticism and determination, Mullen executed a flawless take down in the last four seconds of the match, scoring the decisive points and securing the victory. The crowd erupted in cheers as Mullen was declared the winner, his third state championship in a row.
Mullen's performance in the state championship match was a testament to his skill, talent, and mental toughness.His achievement is a remarkable one, and it cements his place in New Jersey wrestling history as one of the best to ever compete in the sport.