Is Simeon Wilcher the Nike EYBL MVP?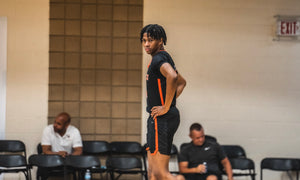 The Nike Elite Youth Basketball League (EYBL) is an annual summer basketball tournament that showcases the top high school talent in the country.  EYBL is a great way to see who will be potential stars going forward, whether it is college basketball or even the NBA. So far, one of the stars of the tournament has been Simeon Wilcher, the star guard out of Plainfield, NJ.
The Roselle Catholic phenom has been on a tear throughout the last three games, averaging 18.7 PPG, five rebounds, and five assists on 52% from the field. Wilcher, with the help of Wisconsin commit Gus Yalden and Hudson Catholic guard Elijah Gertrude, had led the City Rocks team to a 4-0 record, solidifying themselves as one of the better teams of the tournament.
According to high school basketball insider Samad Hines, NBA scouts and personnel have been noticing Wilcher's overall skill set and toughness on the court. This will be key to his development as he enters his senior year of high school and freshman year at the University of North Carolina. 
I personally believe that Wilcher's future is bright. Not only because he has the tools to be a successful guard and a winning mentality, but because of his New Jersey toughness that is instilled in so many players in our state.
photo provided by Lokesh Southernland (@lokesh.photo)