Hillsborough Triumphs Over Union in a Riveting Clash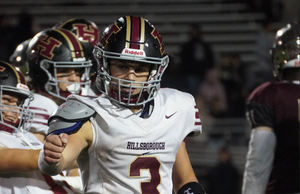 In a thrilling encounter under the Friday night lights, Hillsborough High School clashed with Union High School, showcasing a spectacle filled with adrenaline and fervor. The air was electric at Union High School as the two teams battled it out, with Hillsborough emerging victorious, concluding the game at 15-7.

The game kicked off with an explosive start as Jackson Jankowicz of Hillsborough dazzled the spectators with a staggering 92-yard kickoff return, setting the tone for the rest of the match. Not to be outdone, Jonathan Lobelo punctuated the first quarter with a decisive 3-yard run, leaving the fans on the edge of their seats. The second quarter, however, saw defenses locking horns, with neither side conceding any points, maintaining the suspense and tension in the stadium. 
The third quarter witnessed Union's resurgence as Cedrick Raymond caught a pivotal 13-yard pass from O'Malley King, reigniting the spirits of Union supporters. The game intensified as both teams displayed unwavering resolve to clinch victory. The game continued to go back and forth with a few short runs for small gains, runners picked up first downs but eventually were stopped. Union looked to find some offense in the air but Hillsborough defense was able to put pressure on both the quarterback and wideouts.
Within the final minutes, Union put together a solid drive completing a key pass getting them near the red-zone. Knowing that time was against them, the Farmers need to take a shot. With one unsuccessful attempt, Hillborough found themselves with a flag on the field for pass interference giving Union some yardage with another shot. As King fired off another pass, the Raiders made sure to capitalize with Jankowicz coming through with a interception. From there, victory formation was called and the game was sealed. 
Hillsborough defensive unit were the unsung heroes of the game. Shayne Powell made his presence felt with two decisive sacks, displaying his defensive mastery. Jankowicz was electric on both sides of the ball, reflecting the relentlessness between his offensive and defensive abilities.