High Stakes Rematch: Union City vs. Passaic Tech in the State Semi-Final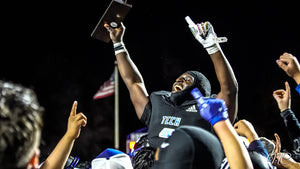 photo by: Nick Caruso
The upcoming New Jersey high school football state semi-final game between Union City and Passaic Tech is shaping up to be a classic showdown, filled with history and competitive spirit. Here's a closer look at both teams and their rivalry:

Union City Eagles
Season Performance: The Eagles have had a strong season, with an impressive 10-1 record. Their only loss came against Passaic Tech, which makes the upcoming game a highly anticipated rematch.
Recent History: Union City's last game against Passaic Tech ended in a close 13-6 defeat. This loss serves as a motivating factor for the Eagles, as they seek redemption in the semi-final.
Coaching Milestone: The last victory for Union City marked the 100th career win for Head Coach Will Valdez, a testament to the team's consistent performance under his guidance​​.
Passaic County Tech Bulldogs
Undefeated Season: The Bulldogs have had an undefeated season with a 12-0 record, showcasing their dominance in the league.
Previous Encounters with Union City: Passaic Tech has had the upper hand in recent matchups against Union City. They secured a win earlier this season with a 13-6 score and also had victories in last year's encounters, winning 6-3 in the regular season and 14-7 in the 2022 sectional final​​​​.
Championship Pedigree: Passaic Tech is seeking a return to the state final after winning last year's North Group 5 regional title, indicating their experience and capability in high-pressure games​​.

The rivalry between Union City and Passaic Tech has grown in intensity, especially with their recent encounters. For Union City, this game is not just about advancing to the final but also about overturning their only loss of the season. For Passaic Tech, it's an opportunity to maintain their unbeaten record and demonstrate their supremacy in the league.

How Union City adapts their strategy to counter the Bulldogs, especially after their narrow loss earlier in the season, will be crucial. The Bulldogs have shown a strong defensive game in their previous matches against Union City, and maintaining this could be key to their success. Individual performances can often tip the balance in such closely contested games. Players like Trashon Dye and Ma'Kao Taylor from Passaic Tech have been pivotal in their previous wins and could play a significant role in this game too​​. On the flip side Union City has shown a balanced attack with player like Mark Boyd, Tyler Koffa, and Elijah Rose. 

The semi-final between Union City and Passaic Tech is more than just a game; it's a chapter in an evolving rivalry, a test of strategy and skill, and a showcase of high school football at its best. Fans of both teams can expect a thrilling encounter as these two teams battle for a spot in the state final.