Gloucester's Bryszewski and Lee Look To Propel Young Lions To A Sectional Title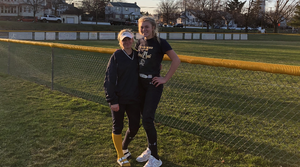 In 2021 the Gloucester City Lady Lions had a heartbreaking end to a very productive season. A 3-0 loss to eventual state champ and TOC runner up Clayton had ended their season. This year, Gloucester looks to bounce back with another division title and this time a sectional title leaning on their two standouts, Junior Hannah Bryszewski and Senior Alexa Lee, with the nickname the "Blonde Bombers" due to their very bright blonde hair and their remarkable hitting skills. The Lady Lions lost two senior starters due to graduation in June 2021. This year they're faced with adversity again. Presumed starter Ava Iepson will miss her Junior year due to a knee injury and their ace, Junior Skylar Holmes, transferred to Cypress Lake High School in Fort Myers, Florida.
Fortunately for the Lions, they have a strong freshman class and a huge weapon on offense and defense, Senior and former Paul VI standout, Alexa Lee. Their standout freshmen include Rylie Zearfoss and Kaelyn Zearfoss. A few key games to highlight this year are rematches against Clayton, Paul VI, and crosstown rival Gloucester Catholic, with all of those games being under the lights at the Ponytail Fields in Gloucester since the Lady Lions' home field at Gloucester High is undergoing renovations. Alexa Lee states that she has a lot of love and respect for her old team and there's no negativity between her and the Lady Eagles at Paul VI. Bryszewski and Lee feel that even with only 3 seniors (including Lee) that production will be at a premium this Spring. "Obviously right now these are scrimmages where we need to tweak some things and work on stuff but as the season progresses I feel the team will as well." Hannah Bryszewski had to say.
Both players were teammates on last year's Olympic-Colonial Carpenter Cup team with Bryszewski representing Gloucester and Lee representing Paul VI. Hannah Bryszewski led the team in every hitting stat besides RBIs posting a statline consisting of 36 hits, 12 RBIs, 3 HR, and 24 stolen bases from the lead off spot. In a shortened season for Alexa Lee at Paul VI in 2021 she had 9 hits, 5 RBIs, 1 double, 2 triples, and a homerun in 25 plate appearances. 
Chris Baker from NJ Athletics. You can reach Chris on Twitter (@cbake_51) or you can reach him by email (
cbake2025@gmail.com
). Be sure to check out NJ Athletics on Instagram (@NJAthletics) and on Twitter (@nj_athletcs)