Gloucester Ends 51 Year Drought!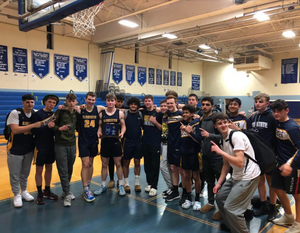 With a sectional title on the line, the Rams host the red-hot Gloucester Lions who are coming fresh off of an upset over 1-seed Paulsboro. The challenge ahead of the Lions? 2-seed Salem. Coming into this game, on paper Salem had the height and a higher seed in their favor. When the game tipped off, that seemed to be no issue for Gloucester. The Lions came out guns blazing with a three from Aydan Hagan and from Kutztown football commit, Steven Burkhardt. From then on the Lions stifled the rather usually aggressive Salem offense.
Gloucester seemed to be firing on all cylinders on offense with Liam Gorman and Steven Light getting their shots down low, with Michael Light and Burkhardt cleaning everything  up on the glass. Michael Light, who's a very underrated piece of the Lions team, is surprisingly one of the better rebounders in the area for only being a sophomore and a 5'10/5'11 forward. The Lions led 27-19 going into half with all of the momentum in their favor.
In the second half, Gloucester came out hot on both offense and defense as well just as they did in the first quarter. Liam Gorman hit a three and the Lions made a stop on the other end of the court to cut off any sort of momentum Salem had. As the 3rd horn sounded signaling the end of the 3rd quarter, Gloucester had a 10 point lead heading into the final quarter of regulation. With the fourth quarter underway, Salem threw a few punches with a three and a few layups to see how Gloucester would respond. Aydan Hagan seemed to have responded well to give the Lions some breathing room with a huge bomb from deep. With under 2 minutes left and a big Lions lead, it seemed to be all over. After a few more defensive stops the celebration was on! Gloucester had won their first sectional title since 1971 in their first appearance since 1999! Lions coach Liam James described the experience as "surreal" after winning his first sectional title as head coach of Gloucester. "It's better than we could've ever anticipated after beating two teams who on paper show how much bigger they are than us and we won those two games through toughness."
Gloucester suffered a tough loss to Lindenwold in the 2020 South Jersey Group 1 semifinals, but made it clear they were all business this time around. James stated that "There was no better preparation for playing this game than playing in Paulsboro at their place and to take things one game at a time." Senior Steven Light credits his experience as a factor to his growth and skill. Light was a starting freshman on the 2019 team that lost at Overbrook in the quarterfinals and a starter again as a sophomore on the 2020 team that lost in Lindenwold in the semifinals. Light said that the message to the younger guys was "Practice like every game could be the final one. Each round is not guaranteed." Gloucester moves on to the state semifinals against Burlington City at Toms River North at the RWJBarnabas Center at 5pm on Thursday. 
Chris Baker from NJ Athletics. You can reach Chris on Twitter (@cbake_51) or you can reach him by email (
cbake2025@gmail.com
). Be sure to check out NJ Athletics on Instagram (@NJAthletics) and on Twitter (@nj_athletcs)