From Prospect to Pirate: Patrick Reilly's Ascent to MLB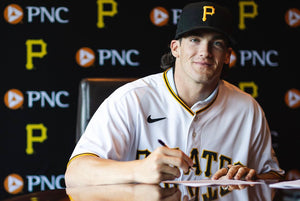 One of the best feelings you can have is realizing the goal that you spent countless hours working towards is finally in your grasp. It is because you are not only putting yourself in a better position, you also get to help the ones you love by doing the very thing that you love. This was the case for many of the top high school and college baseball prospects about two months ago, as they were to fulfill their dreams at the annual MLB draft. 
Baseball, compared to all other sports, is a profession where organizations have to put their ultimate trust in the players that they sign. Due to the farm system, the various teams around the league have to commit to developing the talent that they get from the draft so that they can be ready for the majors when the time comes. While this is the case, though, there are certain talents that come to certain teams that are more capable than others in helping out a franchise. This is the case for Patrick Reilly, a 6'3 pitcher who is ready to contribute to the Pittsburgh Pirates' bullpen.
With a father who played college football at Villanova, Reilly was exposed to many sports growing up in NJ. Whether it was baseball, basketball, or football, Reilly was well involved in just about everything in middle school and early on in high school. Due to jumping around multiple things at one time, Reilly credits this way of life to his athleticism on the field.
"I never really focused on one particular sport at a younger age," Reilly expressed. "I think that has helped me maintain athleticism and allowed me to make significant plays while on the mound."
As time went on, Reilly became more serious in pitching while playing for CBA (Christian Brothers Academy). That is also when others started to notice Reilly's arm talent as well as numerous schools started to pay attention to him at various showcases.
Even though Reilly's high school career was impressive, it was the summer going into his senior year where he boosted his skills and performance.
"After my junior year, I took the summer off and went to Jupiter to pretty much tone my skills as a pitcher," Reilly said. " I made a big velo jump due to my weight room workouts and also through to just getting older. Getting that growth spurt at 17 years old was big for me."
From then on, Reilly committed to Vanderbilt University, a top program in the nation when it comes to making great prospects and winning overall. During his three seasons, Reilly was able to accumulate 187 strikeouts with a 11-9 record. Because of his resume, the Pirates drafted Reilly in the fifth round. The feeling of getting drafted was great for Reilly, but he also understood that it was no time to bask in the glory. It was instead time to put in even more work.
"It was definitely a lifelong dream to accomplish, but I think one of the biggest things for me was getting back to work after experiencing so much happiness," Reilly said.
I believe Reilly is a great example of someone who works for what they want to achieve. Because of his insane work ethic, Reilly will be a great pitcher in the future for the Pirates and he will definitely inspire future kids in the Garden State to become great athletes and great people off the field as well.