ESPN Rankings: Jersey Takeover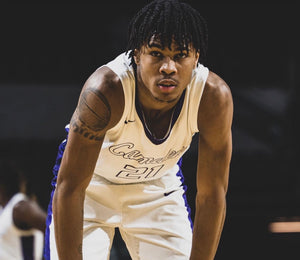 Yesterday, ESPN updated their high school rankings for the class of 2023, 2024, and 2025. With the recent ending of AAU basketball, top positions were up for grabs as many players across the nation proved why they deserve to be recognized.
For the class of 2023, the rankings became a topic of conversation after former number one player South Carolina freshman Gregory Jackson announced that he would forgo his senior year. Many eyes were on DJ Wagner, who was always a top two to three player even with the disappointing ending to the NJ Scholars EYBL season. But sure enough, when the rankings were posted on numerous basketball media platforms, Wagner's name came up first.
Not only did Wagner show up as number one, but Mackenzie Mgbako of Roselle Catholic and Aaron Bradshaw of Camden High were listed at the top five as well. Bradshaw made the biggest jump out of the three as this year is the first time that he has cracked the top 10. Ty-Laur Johnson and Elmarko Jackson, who made noise across the country in the EYBL and Under Armour circuits made the top 100 as well with Johnson coming in at 83 and Jackson coming in at 28.
For the Class of 2024 and 2025, New Jersey was well represented again as Naasir Cunningham, Elliot Cadeau, Tahaad Pettiford, and Dylan Harper in top 20 for all upcoming juniors. Darryn Peterson came in at number four for all upcoming sophomores after showing his advanced skill in front of NBA scouts at the NBPA Top 100 Camp.
With the Garden State being well represented, I still feel like some of our players were still not acknowledged enough. For example, Simeon Wilcher, who was a state champion and the leader for the City Rock's undefeated regular season, came in at 19. I believe he is easily a top 10 player and can even make a case for the best combo guard in the country. Wilcher's AAU teammate Elijah Gertrude was not ranked at all, which can surprise many after being ranked pretty high by 247 Sports.

With these rankings, New Jersey proved that we produce top tier talent every year. While there are other well known states like Texas, California, and Virginia, New Jersey should definitely be recognized as a well respected basketball state going forward.
photo provided by: @unfi1tered.media