Dylan Harper: The New Number One Player in Class of 2024?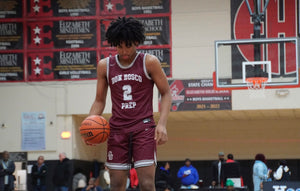 With the new year now upon us, I believe it should be strongly taken into consideration that junior sensation and Don Bosco guard Dylan Harper could possibly be the best player of the 2024 class. After averaging 28.3 points at the John Wall Invitation tournament in North Carolina, including a standout 28 point performance against Centennial High School, a high-ranking team in the country, Harper has proved that he is not only the best player in the state, but the entire country.
Harper's success has also translated into a strong record for the Ironmen. With a 7-0 record, Don Bosco is making a case as one of the best teams in New Jersey. With victories against Centennial and St. Peter's, a top team in their own right, it could be possible that Don Bosco could rival the likes of Camden and Roselle Catholic.
Throughout all of the games, Harper showcased a versatile playstyle that not many can compare to. With a full 6'5 frame, Harper uses his body and handle to get to the rim and finish at the rim with ease. With this, stopping the drive would also allow you to be beaten by his jumpshot, which has improved drastically over past seasons, according to coach Kevin Diverio. This balanced attack will help Harper going forward as no defense will be able to guard him if he masters his game.
With some offers coming from Indiana, Duke, and Rutgers, brother Ron Harper Jr.'s alma mater, it will be interesting to see the schools that come into play as Harper continues to improve. But if anything is for sure, Harper's name will continue to be brought up as he looks to continue his play throughout the high school season.