Donovan Catholic Claims 3rd State Crown In A Row!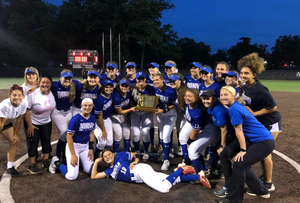 A little over a full 24 hours after beating Freehold Township for the Shore Conference title, Donovan Catholic was looking forward to possibly winning another championship but this one having much bigger implications.
Julia Apostolakos toed the very same mound she did in last year's state title game and immediately went to work. Apostolakos struck out the first 7 batters she faced. In the top of the third Mount St. Dominic had threatened to score after a 2 out triple from Anna Cacciarne. The pressure was immediately relieved once the lineup flipped over and Apostolakos struck out the leadoff hitter in the Mount St. Dominic lineup. Both teams traded 5 scoreless innings with great work from both Apostolakos and Grace Perez for MSDA. Both junior pitchers were not afraid to use their fielders.
After the top of the 6th and 2 more strikeouts later from Julia Apostolakos, the crowd and atmosphere felt a bit drained. Like everyone in attendance had the same thought, "Will someone score a run already? If so, who will it be?". After a leadoff strikeout for Grace Perez to start off the bottom of the 6th it seemed like we were in for another scoreless inning. That was until Emily Kurth knocked a single to left field, bringing up Julia Apostolakos. In a 2 strike count. Apostolakos did NOT miss the pitch. She sent the ball on a line straight over the fence in Orange. Someone finally scored!
Two batters later Mount St. Dominic had finally gotten out of the inning. It was last ups for MSDA. A leadoff flyout had sucked the air out of the Mount St. Dominic section until Sydney Rosenkranz smacked a double to right field and the Lions had life! That life would be quickly taken as Apostolakos K'd the final 2 batters and the celebration had begun! Donovan Catholic completed the state title three-peat! Although Donovan Catholic's homesite is not at Ivy Hill Park, it seemed like pitcher Julia Apostolakos was right at home.
"We just take it game by game and this just meant more. We tried to keep it simple and play our game like we know how and whatever happens, happens at the end" Apostolakos said. "Playing in big games and venues helped us prep for this game" Coach Debbie Schwartz chimed in. Winning two huge tournament championships on back to back days with one of them being the state title is no easy feat. Coach Schwartz was a bit worried coming into the game with the girls having a super jam packed week which included the Shore Conference Tournament championship, the school's prom, and a school award ceremony. "Coming into this game I was a bit concerned about the energy level with having such a jam packed week." That seemed to be no issue as the dugout was loud all game and Julia Apostolakos clearly had enough gas in the tank the day after a 15 strikeout performance by topping the previous day's outing with 16 strikeouts in a complete game shutout in the state final. 
Chris Baker from NJ Athletics. You can reach Chris on Twitter (@cbake_51) or you can reach him by email (
cbake2025@gmail.com
). Be sure to check out NJ Athletics on Instagram (@NJAthletics) and on Twitter (@nj_athletics)