Derek Simpson: The Future Of Rutgers Basketball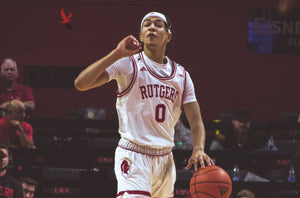 As a senior at Lenape High School, Derek Simpson could have played for many college programs at the Division 1 level. But out of all the offers he received, Simpson chose to stay home and play for the premier team in New Jersey, Rutgers University. Since then, Simpson has not looked back and proceeded to make a huge impact in just his first year playing with the Scarlet Knights.

Simpson was known throughout the season to put up big time performances when it counted the most. For example, Simpson scored 13 points in a winning effort against the University of Michigan to eliminate them from the Big Ten Tournament. More notably, Simpson also dropped 18 points on the top team in the nation in Purdue, though losing 70-65 in a back and forth game. Despite being a major contribution to the team, Rutgers's season ended earlier than they would have liked, which taught Simpson valuable lessons as a college basketball player.

"It was a great learning experience," Simpson expressed. Many freshmen in the Big Ten don't get to play ten plus minutes consistently. So I put that into consideration and got the best out of it. The highs and lows are real at the college level, so I learned to always stay balanced and keep moving forward."

Having this type of maturity as a college freshman is not an everyday thing. Developing this type of mindset comes with great people in your corner, and that is exactly what Simpson has. With the love and support Simpson has from his family, he is able to learn every day and better himself off the court as well as on it.

"A big part of my overall development has been my father," Simpson said. "He and the rest of my family always told me good things would happen when you work hard and don't rush the process. Both my mom and dad were the reason for keeping my head straight throughout this whole journey of the recruitment period to now with me being in college. It has been different this year due to the fact that I am not able to see them everyday. But thankfully the long talks on the phone helped me as well."

As a guard from Jersey, you can make a safe assumption that Simpson will have a chip on his shoulder going into his sophomore season, as he has described himself that "many Jersey guards are just different." With this mentality and the swagger Simposn possesses, he has big goals going forward for himself and the team to achieve in the future.

"A personal goal going into next year for me is to be a starter," Simpson said. "I was fortunate enough to get some experience with that already, but I believe I am ready to be a permanent starter for next year. On top of that, I just look to be a better player and especially a better person. Being a great person helps you on the court and off the court, so those things are at the top of my list.

"As a team, I want to win the games that matter the most. This upcoming year, we are going to have a great team, so I believe we can accomplish a lot. This past season, we were told on a consistent basis that if you can get 20 wins, you can reach the NCAA tournament…we had 19. With us being right there, we are looking to progress as much as possible."

Rutgers basketball is on the verge of accomplishing something special in the near future. Don't be surprised if you see Derek Simpson being a main catalyst for the run these guys are going to make.