Delsea's Ground-And-Pound Attack Runs Straight To Rutgers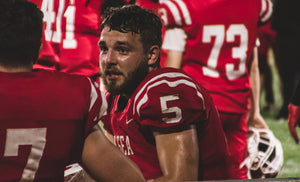 Photo by: Quincy Harris
At halftime, the Delsea Crusaders trailed for the first time this season. They were engaged in a highly anticipated Top 10 matchup with the Camden Panthers, missing starting quarterback Zach Maxwell, and ran into a bit of penalty trouble. None of that mattered to head coach Sal Marchese Jr. and the rest of his squad. Down 14-0, they were still in the mix for a trip to the first-ever Group 3 Championship and did not want to join quite a few others in seeing their undefeated season come to rest right before the most important game of the year. The Crusaders' ground game came sprinting out of the half, and Delsea ran straight to Rutgers in the fourth quarter.
    Both Camden and Delsea came into this game without their starting quarterbacks, with The High feeling the loss of star Deante Ruffin. It didn't look like it would matter for the Panthers, with freshman Jaythan Candelario admirably stepping up and giving Camden a 14-0 lead going into halftime. Terron Davis and D'Hani Cobbs caught the two passes that went for seven. The Camden defense stalled two Delsea drives in the red zone and continued to play the shutdown defense that allowed them to dominate the sectional final last week. 
    While Camden controlled the first half, Delsea came out roaring in the second half. The Crusader's leaned on a running committee that is approaching 3,000 total yards on the season. Jared Schoppe was the feature back of the game, going for 128 yards and a touchdown on the day. He scored Delsea's first of the game in the third quarter then ran it in on the two-point conversion, cutting Camden's lead to six points. Wayne Adair and quarterback Jimmy Reardon chipped in during the fourth quarter, completing the Delsea comeback and giving them a 20-14 lead. Adair had 65 yards on the day and Reardon may have only attempted two passes, but he had 45 yards on the ground. This rushing attack broke down the Camden defense and capitalized late. The Crusaders' defense stepped up in the second half, putting backfield pressure on the young Candelario and forcing mistakes from all facets of the Camden offene. 
    This matchup lived up to it's hype, even with the starting quarterbacks sidelined. Recognition should be given to both Jimmy Reardon and Jaythan Candelario for admirably stepping up for their respective teams in one of the biggest games of the entire season. The Delsea Crusaders came out on top, continuing their undefeated season and handing The High their first in-state loss of the year. Delsea will travel up to Rutgers on December 3 to take on Old Tappan for the Group 3 State Championship.