Cliff Omoruyi: Ready for Greatness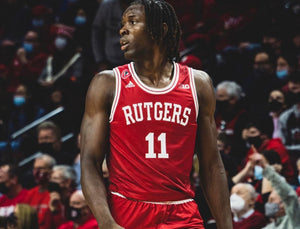 After a stellar season this past year that resulted in a solid March Madness run, Rutgers University is looking to continue where they left off. One player for the Scarlet Knights that look to make an impact this upcoming season is 6'11 center Cliff Omoruyi.
Omoruyi, originally from Nigeria, made a significant jump in his level of play from his freshman year to his sophomore year. Going from 3.9 PPG to 12 PPG and almost doubling his rebounds per game, Omoruyi has the potential to not only lead Rutgers to another fantastic season, but also get the attention from numerous NBA scouts. 
When asked about his goals for this season, Omoruyi had his personal wishes, but made sure to put the team first immediately after.
"Personally I want to be able to average a double-double," Omoruyi said. I feel like I made a tremendous leap in my play from a year ago so I definitely think I am capable of the feat. In terms of the team, I want to be able to help lead the team to the Final Four and get even more success than last year."
With the departure of top players like Ron Harper Jr. and Geo Baker, it will be quite the challenge to follow in their footsteps in the future. But in Omoruyi's case, challenges are nothing new. After all, basketball is not even the sport he fell in love with first.
"Growing up, soccer was my favorite sport," Omoruyi said. "But over time, I was able to grow my love for basketball more and more and translate components like footwork and speed to my skill set."
After moving from Nigeria to New Jersey, Omoruyi quickly got adjusted to the Garden State when he attended Queen of Peace and then ultimately Roselle Catholic. After playing against some of the top schools in the country in high school, Omoruyi realized that New Jersey is in a class of its own when it comes to competition.
"What separates Jersey from everybody else in the country is everyone's drive to be great," Omoruyi expressed. "Because of our competitive nature, we tend to have the advantage when going against the opposition."
Even though Omoruyi has his own aspirations for his basketball career, he is more than willing to help kids out whenever he can. He believes that if he can share his own knowledge on what he has learned so far, he can be a benefiting factor for many.
"I always tell little kids to make sure they are continuously working," Omoruyi said. "The only way they can be able to get to the highest level is through hard work. So if they can be taught that early on, they will be advanced."
It was truly a pleasure to interview Omoruyi. I believe he will do great things in the future and achieve much success. But more importantly, he will definitely inspire many kids who look to become successful in their lives.
Photo by: AJ (@unfi1tered.media)