Cherokee Youth Charges Team To Group 4 Champ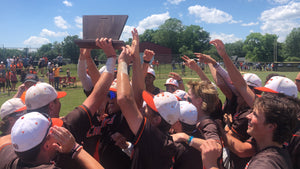 The Cherokee Chiefs came into the South Jersey Group 4 title game as the 6 seed facing the 1 seed Kingsway Dragons. We were set for a pitchers duel as sophomore Joey Fanelli, Kingsway and 14 year old Cherokee freshman Brett Gable got the start on the mound for Cherokee. Gable and Fanelli would trade 5 scoreless innings for each side. Gable would strike out 8 Kingsway batters while Fanelli struck out 5.
In the top of the 6th, Jason Schooley led off the inning with a walk, then Dom Patrizi would reach on a controversial infield single to set up Jeremy Cheeseman with runners on first and second. Cheeseman laid down the perfect bunt to advance the courtesy runner for Schooley and Patrizi to scoring position. Chiefs junior Brandon Petrick roped a single down the right field line to drive in two runs and give Cherokee a 2-0 lead over Kingsway.
The Dragons would get one back in the bottom half of the inning as Colin Gill ripped a liner to short that couldn't be caught and Carter Williams took advantage of the miscue and crossed the plate. With a 2-1 lead sophomore Grayson Bravo sat Kingsway down in order to end the ballgame and Cherokee would become South Jersey Group 4 champs!
This title was Cherokee's first sectional title in a whole decade. Cherokee head coach Marc Petragnani gave kudos to his 3 and 4 hole hitters who were willing to lay down bunts to advance runners into scoring position. "...It says a lot that our 3 hole hitter (Division 1 player) and our 4 hole hitter (Division 1 player) are willing to get bunts down when I ask them to get bunts down. That was the key to moving runners over and driving in the winning runs''. Winning pitcher Brett Gables said his mentality going into the game was to "be prepared and be competitive". "I know the team has my back, we're gonna do our job and that's what we did''. 
Chris Baker from NJ Athletics. You can reach Chris on Twitter (@cbake_51) or you can reach him by email (cbake2025@gmail.com). Be sure to check out NJ Athletics on Instagram (@NJAthletics) and on Twitter (@nj_athletics)