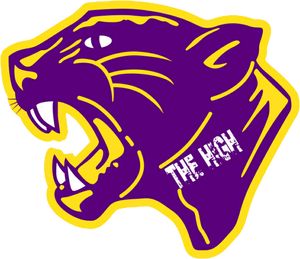 The No. 1 ranked Camden High Panthers took a trip to Haddon to take on division rival, Paul VI. It was a packed house as even getting there 40 minutes before the game there was hardly any seating during a JV game. In the first few minutes of the game between the Panthers and Eagles, both teams traded baskets coming from fast breaks. Jaden Arline and Judah Hidalgo got the scoring going early for Paul VI. For Camden, the scoring came from one of the most underrated parts of Camden's team, Elijah Perkins. Perkins does not get enough credit for how well he plays alongside the likes of DJ Wagner and Aaron Bradshaw. Cian Medley is also a great third option for the Panthers as well. You may have seen the "human trampoline" Elijah Perkins on SportsCenter Top 10 against Roselle Catholic as he put one of their players on a poster off of a missed shot attempt.
Camden began to execute the full court press halfway through the 1st quarter, the game started to slowly become out of reach for the Eagles. After the first quarter, Camden led 21-8. The second quarter is when the switch flipped and Camden kicked it into high gear. As a team the Panthers scored 31 points in the quarter. Those points came primarily from a Rasheer Fleming dunk and a few layups as well as a corner three in the final minute of the second. Fleming also hit Aaron Bradshaw in transition for a vicious alley oop thrown down by the 7'1 big man. Cian Medley also added a three pointer for Camden as well. At the half the game was practically out of reach as Camden led 52-24. Jaden Arline hit a few three pointers in the third quarter to try and give Paul VI any sign of life. That didn't last long as Elijah Perkins and DJ Wagner began to score at will. A majority of Perkins' team high 18 points came in the explosive third quarter the Panthers had on offense.
The fourth quarter pretty much became the time for the Paul VI student section, DaFlock, to cheer for senior Andy Tran to enter the game. After a few minutes and both teams traded baskets, the fans got their wish. Head coach Tony Devlin put in Tran with about 3 minutes left in regulation. Every Paul VI offensive possession the fans chanted for Paul VI to pass to Tran so he could shoot a three pointer. On Tran's first attempt, he got nothing but net and connected on a three. That sent the students into a frenzy. After a few minutes passed by the final buzzer sounded and that was all she wrote.
Camden's Aaron Bradshaw was asked how he prepares for games; he responded with "I play like how I practice, that's why I always take practice seriously. I feel like that's a big thing that helps me". Elijah Perkins says he feels no pressure or a certain type of way about playing with guys like DJ Wagner and Aaron Bradshaw. "I just go out there everyday and play basketball like I know how to and have fun with my guys." 
Chris Baker from NJ Athletics. You can reach Chris on Twitter (@cbake_51) or you can reach him by email (cbake2025@gmail.com). Be sure to check out NJ Athletics on Instagram (@NJAthletics) and on Twitter (@nj_athletcs)