Caldwell Continues to Shine with Convincing Victory Over Cedar Grove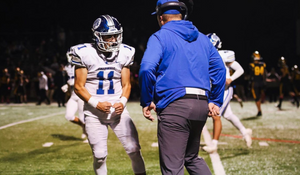 Photo by: Ariel Fox
In a game that had fans on the edge of their seats, Caldwell displayed a true winning mentality, extending their impressive winning streak to 35 games. The game atmosphere was electric, with each play echoing the intensity and determination as a battle between two undefeated teams was underway. 

The first quarter set the tone, with Caldwell executing a crafty 13-yard pass to find the end zone. Cedar Grove, undeterred, showcased a defensive resilience that hinted at the challenges Caldwell would face as the game progressed.

The second quarter unfolded with a blend of offensive brilliance and defensive tenacity from both squads. Cedar Grove responded, as Iannacone found the end zone picking on a 24 yard pass with most of the yardage coming after the catch.  Shortly after, Iannacone and Paradiso connect for a 38 yard touchdown giving the Panthers a 12-7 lead. Caldwell. retaliated with an electrifying 80-yard pass, piercing through Cedar Grove's defenses and once again, lighting up the scoreboard. The back-and-forth nature of the quarter showcased the teams' offensive capabilities and set the stage for an enthralling second half.
Heading into the second half Cedar Grove entered with a 15-14 lead and added to that lead with a quick drive resulting in a touchdown run. Caldwell, with a winner's resolve, responded with an 83-yard to Joey Marinello, demonstrating their offensive potency and maintaining control of the game's narrative. After a few back and forth drives and a touchdown a piece, the game intensity started to rise. With minutes winding down in the 3rd, the Panthers got in a good position to take the lead with a well-put drive to a handful or receivers. However, this was disrupted as Julian Casale intercepted a ball for a 51-yard touchdown.  

The fourth quarter was a spectacle of defense and strategic play, with Caldwell securing their lead with a 10-yard run TD and demoralizing Cedar Grove's momentum two more interceptions. These plays not only solidified Caldwell's victory but also showcased their defensive and offensive balance, aspects that have contributed to their impressive season. 
Caldwell's quarterback, Louie Anemone, was a standout, orchestrating the offense with precision, accumulating 298 passing yards and contributing to the scoreboard with his arm and legs. The rushing and receiving corps were equally impressive, with notable performances that included an 83-yard touchdown reception and several key runs that kept drives alive.

Cedar Grove, despite the loss, showcased moments of brilliance and potential, with Stephen Paradiso accumulating an impressive 470 passing yards and contributing to the scoreboard with both his arm and his legs. The team demonstrated that they could find the end zone and create offensive opportunities, aspects they will look to build upon in the coming weeks.