Baseball Group 4 Sectional Championship Preview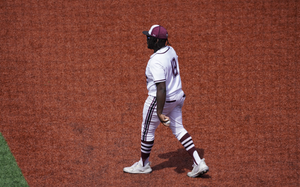 Photo by: Cameron Downs
The first three rounds of playoff baseball are officially in the books and we currently stand in the final round for each of the four sectional brackets. As teams had a few days off to prepare for the next set of games, we take a look at the NJSIAA Championship bouts from each Group 4 Region.

North 1
Ridgewood vs. Bloomfield:
Ridgewood is currently on a 7 game win streak and have scored in double digits throughout each of those games except for their most recent 8-1 win over Passaic Tech. Led by big time sluggers Lucas Barker and JT Luther, the Maroons have seen their offense explode at times where they are able to do some real damage on the board. Jay Whitmack is coming off a 3 for 4, 5 RBI performance and will look to carry that momentum into the next game. On the bump we expect to see Brendan Chanley who has been very productive this year. Chandley comes in with a 0.71 ERA and averages nearly two strikeouts per game which is as good as any high school rotation can be. However their opponents will be looking to put that to rest. Bloomfield has had a solid season with a 20-9 record with a pretty tough schedule playing some of the better teams in the state. Led by a group of seniors, the Bengals currently have six batters hitting over .320 which include Keithdem Perez and Brandon Piacenza who are both hitting over .380. The struggle this season has been on the mound. Bloomfield has not the best success as they carry a 3.48 ERA. As their Ace, Evit Dwyer has used against Livingston, there is a big question mark as to how Bloomfield plans to break down their rotation this Friday.

North 2
Bayonne vs. Bridgewater Raritan:
Coming into this game, Bayonne has proven to be one of the hottest teams in the state and has even cracked the Top 20 from multiple media outlets this season. In their last 17 games the Bees are 15-2 with their only losses coming from Ranney and St. Peter's Prep. Offensively, Bayonne is as good as they come putting up 18 home runs and 249 total runs this season. Aidan Paradine has been a key player in this offense as he currently sits at a .449 average with 7 home runs and 40 RBIs. After a quiet night against Westfield, we expect to see a bounce back in the Championship round. With a 14-3 win in the semi finals, Bayonne seemed to keep their bullpen fresh, holding all pitchers to under 50 pitches. Everyone should be available to pitch against Bridgewater-Raritan which will work to their favor. On the flipside their opponent is in the same situation even though it came from a different path. Bridgewater-Raritan had a very close battle with Woodbridge that went into extra innings, but all of their pitchers were held to a lower pitch count. Their Ace, Noah Matheson, burned 67 pitches but is available if needed. On the season, the Panthers have been a Top 20 team for most if not the entire year. Their explosive offense has been a key factor in their success as they come in with a team batting average of .319 while amassing 14 home runs and 252 total runs. Led by James Turchi, Devin Goldberg, and the Fattore brothers, the top of this line up is scary to face. With both teams having incredible seasons, we are expecting to see a very fun game in the Group 4 North 2 Championship.

Central
Old Bridge vs. New Brunswick:
This is a very exciting match up as these opponents are no strangers to each other. These division opponents have seen each other twice this season and have battled it out both times. Old Bridge came away with both wins with 6-1 & 3-2 victories. North Brunswick has already seen both of Old Bridges' top pitchers in Justin Hascup and Frank Papeo and will most likely face off with Hascup this time around. North Brunswick's star Zack Konstantinovsky pitched all of last game, setting up either Kyle Anderson or Alejandro Jabar for the start. Both have thrown against Old Bridge already but Anderson has seen better success pitching a full 7 innings only allowing 2 runs as the game went into extra innings. Since then things have been different. The Raiders went on to win 18 games in their last 20 and have been dominant across the board. Zachary Konstantinovsky leads the team with 8 home runs with an astounding .474 batting average with Omar Carreras right behind him putting the same numbers on the board. As a whole, the team has an average of .343 and can make a pitcher pay if they are not on point. On the other hand, Old Bridge looks to wrap up this 3-game series with the season sweep. Although they are 19-8, their record does not show how talented this team is. With wins over Red Bank Catholic, St. Augustine, and more, this team does not fall short under pressure. In fact, 7 out of 9 losses came within two runs. They have kept nearly every game close and defensively had a ton of success. Offensively, both standouts Thomas Papeo and Mike Villani have been on a tear as they combine for over a third of the Knights production. Combined these two have 67 hits with 6 home runs and nearly .400 batting average (between both). Kyle McSorley has also been an RBI machine with 27 on the year. As we gear up for a third battle between the two, there will be a ton to look forward to coming out of the Central section.

South
Rancocas Valley vs. Eastern
Out of all the brackets so far, the Southern section has been the most interesting. As far as any other Sectional Championship goes, this bracket will feature two of the lowest seeds. Coming in Rancocas Valley was deemed the 6th seed and have went on to upset both #3 Lenape and #1 Cherokee. As the 11th seed, Eastern has taken out every opponent seeded higher than them including a big win over previously ranked Egg Harbor Township. I can say many did not expect this match up but we can only tip our hats to what playoff baseball is all about. Both teams have had a similar season finishing at 16-11 and 16-10-1. In the Olympic - American division Rancocas Valley finished 5-3 while Eastern was 2-5-1 suffering two losses to RV. This sets the stage up as two division opponents have the chance to settle the score. The Red Devils are coming in hot after a recent upset over top-seeded Cherokee. Three sluggers leading the way are Jase Deiter, Gavin Gilmore and Jake Bartletta. These three have been solid all season as they all average over .400, accumulating 106 hits between the group. RV's offense is powered by these three but not limited to it. Last game we saw Brady Bartletta and Connor Whitall pick up 5 RBIs which ultimately was the factor in their victory. On the mound we expect to see a combination of Joe Dinneen and Matt Hewitt as their ace Graham Adams delivered over 100 pitches in the win vs. Cherokee. On the other hand, Eastern also comes in hot with a 6 game win streak and only allowing 8 total runs throughout. With Karbach and Dawson both splitting the mount in the semi final bout against Southern Regional, we can expect a few guys to throw in the Championship game. Eastern has a versatile bullpen as two pitchers hit the 600 pitch mark this season while two more float around 400 and three others net over 200. A loaded pen can be a key factor in this game. As a team the Vikings currently bat .295 but six hitters in the heart of the line up all clear .300. This sets us up for an interesting game between two teams who have pulled off what many could not.