Baseball Group 1 Tournament Preview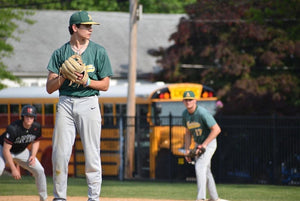 The time has finally come for the 2023 New Jersey Baseball Group Tournament preview! This annual event brings together the best baseball teams from across the state who all share a common goal, to take home that group title. Players, coaches, and fans are all geared up for some intense competition and a whole lot of fun. With that being said, let's dive right into our preview for this year's 2023 New Jersey Baseball Group Tournament! 
North 1
Leading the pack is the #1 seed Pompton Lakes. With a lineup of skilled contact hitters, they are a force to be reckoned with on both offense and defense. Standout sophomore, Vinnie Stigliano has been a big part of their success. Not only is he their ace, hurling an impressive 2.12 ERA over 46 IP, but he is arguably the best hitter on the team as well, batting .411 on the season.  Pompton Lakes have been consistent throughout the season and are determined to show North 1 why they are the one seed
The #2 seed Pequannock, on the other hand, boasts a potent offense that has been lighting up the scoreboard all season long. Their batters have shown impressive power and consistency, and their lineup is filled with players who can change the game with a single swing. Amongst the best of the sluggers is senior SS Joe Sabbath. Sabbath is batting .429 on the season, along with slugging a team-leading 4 HR in the process. Pequannock also has a dual-threat of their own. Sabbath doubles as their ace, tossing a 2.33 ERA while tallying an absurd 83 K's through 42 IP.  Although they are the #2 seed Pequannock will be a challenging opponent for any team in the tournament.
Emerson Boro comes in at the #3 seed. They have a knack for capitalizing on their opponents' weaknesses and turning them into opportunities. Emerson Boro is led with a strong defense, which has senior ace Jake Falotico. He comes into the tournament with an impressive 1.45 ERA over 38 IP. Another pitcher that has contributed immensely is Derek MacKenzie, who posts a 0.30. With their strong chemistry and disciplined approach, they are a team that can surprise any opponent and go far in the tournament.
Lastly, Mountain Lakes is a dark horse in the division. Mountain Lakes comes off a 10-0 dominating win in the First Round of the Group Tournament. Although they are the #4 seed, they do own a win over #2 Pequannock this season. Lakes has a ton of power on this offense. Senior OF Nick Shuhet leads the team with 6 HR, while his fellow outfielder Nico Dunn has slugged 4 HR on the season, while also batting a team-high .465. While they may not have garnered as much attention throughout the season, they have shown flashes of brilliance and have the potential to be a major threat in the tournament. With a mix of talented young players.and experienced veterans, they have the elements needed to spring some upsets and make a deep run.
North 2
Wood-Ridge comes into the North 2 Group 1 Tournament as the #1 seed. The Blue Devils compiled an 18-8 on the season, coming off a 14-0 blowout win in the first round. The defense is led by senior pitcher Devin Arce, who is tossing a solid 2.01 ERA along with 52 K's through 38 IP. The offense is loaded with great hitters, having 4 players batting over a .400 avg. Wood-Ridge is looking to stay on track and prove why they are the top seed. 
The #2 seed Cedar Grove enters the tournament with a 17-9 record. They are looking to continue their dominating play, as they secured a 14-0  first round victory over Shabazz. The Panthers' potent offense strings together hits and score runs at an efficient clip, as they have 6 players that have 19 or more RBI. Amongst their best sluggers is sophomore catcher Nick Russo, who is batting .456 and a team-high 27 RBI. The Panthers look to use their offensive prowess to their advantage in route to a hopeful sectional title.
Hoboken stands at the #3 seed, but could very well have the best chance to take it all. The Redwings started the season off hot at 11-1, but since cooled down, currently sitting at 14-6, although they took down #2 Cedar Grove in the process. Hoboken gets it done on both sides of the ball, using their all around play style to their advantage. Their top slugger, who may very well be the best batter in this tournament, is senior utility player Jonathan Salinas. The two-way standout is mashing the ball at an astronomical rate, batting .579 along with 6 HR and 37 RBI. The power threat just so happens to be a threat on the basepath as well, snagging 26 stolen bases on the season. If that wasn't enough, Salinas is also a key pitcher in their rotation, posting a 2.78 ERA with 38 K's over 27 IP. The Redwings look to use their superstar player, along with their well-rounded play style to come out of this tournament as the champion. 
Central
The #1 seed Point Pleasant stands at the top of the bracket with a 20-5 record. The Gulls possess one of the best offenses in the tournament, 7 players batting over .400, two of them reaching over the .500 mark. Their most dangerous hitter is freshman catcher Daniel Lubach. The rookie is crushing the ball, batting .512 along with 6 HR and 22 RBI in only 41 AB. On the defensive end, Point Pleasant has two aces. Senior Kyle Kolans leads the way with a 1.91 ERA in 40 IP, and his fellow senior James Larsen posts a 1.81 ERA in 27 IP. The Gulls look to use their star power to take them all the way in this tournament. 
Although they have struggled this season with a 12-12 record Shore Regional comes in as the #2 seed in this tournament. Despite their record, the Blue Devils tear the cover off the ball. They have NINE batters hitting over .400. A big contributor to Shore's power numbers is EJ Stefanelli. The junior is batting .449, while leading the team with 5 HR's and 25 RBI. The Blue Devils are seeking to use their offensive prowess to make a serious run in this tournament
#3 seed Middlesex has had a solid season so far, coming into the tournament 15-8. The Blue Jays pride themselves on great pitching and defense. Aidan Kozak serves as Middlesex's ace, posting a 1.17 ERA and 47K's over 30 IP. Kozak is also a threat on the offensive end, leading the team in batting average at .453 and hits at 29. The Blue Jays are looking to compound their winning-streak and make a big push to a sectional title.
South
Buena comes in as the top seed in the South Group, amassing a 23-3 record on the season. The Cheifs of Buena are a well rounded team and get it done on both sides of the field at the highest level. Tre Carano leads the way on offense, batting .432 along with a team high 38 hits. Senior infielder Ryley Betts also massively contributes to this teams offensive success. Betts is batting .414 and leads the team in RBI with 25. Buena's pitching is just as impressive as their offense. Chiefs ace Joey Kurtz posted a 1.16 ERA with 62 K's through 48 IP. Senior hurler Austin Wokock posts similar numbers to Kurtz, putting up a 1.39 ERA and 57 K's through 45 IP. Buena is a strong #1 seed and they are looking to prove why they are.
Audubon has been very impressive so far this season. As the #2 seed in this tournament, the Green Wave have key wins over Kingsway, Paul VI, and Haddonfield. You can't talk about Audubon's success this season without mentioning standout two-way player Scott Lynch. The senior infielder is batting .439 and leads the team with 36 hits and 27 RBI. On the mound, Lynch serves as the ace of the diamond. He posted 1.12 ERA with 51 K's through 37 IP. The Green Wave also have 3 other pitchers in their rotation that have a sub 3 ERA, so they have the depth to compete with any team in this group. Audubon looks to add to their already impressive resume of wins to make a run at the sectional title. 
A darkhorse that could make some noise in this tournament is Woodstown. Coming in at the #5 seed, the Wolverines are 16-7 on the season and 8-0 on Tri-County Diamond play. Woodstown has a booming offense, with a whopping 15 total HR's as a team. The Wolverwines also have 6 players that have over 15 RBI, so scoring runs is not an issue. Amongst their most powerful hitters is sophomore 1B Rocco String, who is batting .394 with 4 HR and 20 RBI. Look for Woodstown to shake some things up in the South sectional bracket.