2023 New Jersey Lacrosse Teams to Watch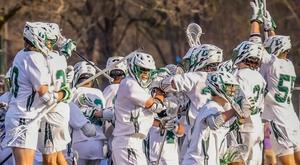 Photo by: Gene Colacino (@gcproductionsvideo)
The New Jersey high school lacrosse season is almost upon us, and with it comes the excitement of watching some of the top teams in the state compete for championships. As always, there are a few teams that should be fun to watch as we expect them to put on a show. Seton Hall Prep, Delbarton, Rumson Fair-Haven, Westfield, St. Joseph Regional, and West Essex are all teams to keep an eye on this season. These teams are stacked with talented players and have the potential to make deep runs in the state tournament. From dominant goalies to explosive offenses, these teams have what it takes to compete at the highest level. Let's take a closer look at what each of these teams brings to the table.
Seton Hall Prep:
The Pirates have one of the deepest rosters in the Mid-Atlantic, and it earned them a ranking in the Inside Lacrosse national preseason poll at the 23 spot. They will be battle tested throughout the year, including dates with preseason number one Brunswick School (CT) and preseason number ten Malvern Prep (PA), on top of the gauntlet of their typical in-state schedule. Losing starting goaltender Jaz Zanelli and 71% of their goal output from last season will be a challenge, but looking up and down this lineup shows they can handle the losses. Junior Air Force commit Christian Schweiger burst onto the scene last year with a 25 goal, 38 point season and the offense should be expected to run through him. Bryant-bound Matt Pepe and Delaware-bound Elijah Rippey will surround him to run the offense. They will have a heavy supporting cast with a lot of talent that needs some experience with Navy-bound Andrew Daly, Sacred Heart-bound Mason Mac, and Swarthmore-bound Ryan Kim at the midfield. UMBC-bound attackman Michael Dunleavy and three juniors in Utah commit Brad Schuster, Holy Cross commit Tyler Juhlin and Colgate commit Luke Knezovic will get significant time to run the attack. The defense may be the Pirates best group, with Notre Dame-bound Shawn Lyght returning for his last ride as arguably the state's best defender. He will be flanked by fellow seniors Denver-bound Brody Davis and St. Joseph-bound Liam Oakes.​ Two juniors in Drexel commit Patrick Quinn and Holy Cross commit Alex Andia will receive playing time and give the defense the depth that the rest of this Seton Hall team has. Senior Ryan Conroy will go between the pipes, anchoring a defense that was one of the state's best last season. Seton Hall Prep has the highest upside in the state, and will remain in the national picture all season as long as they keep winning. Look out for the Pirates to represent New Jersey both in-state and out.

Delbarton:
The Green Wave graduated 60% of their goal production from last season, but luckily for them they are built out from the two most important positions on the field. No one in the state has the sheer amount of goalies that Coach Matt Kovachik is afforded (on top of the talent in this group), with Penn-bound Aidan Troy and Williams-bound Charlie Medd returning after shouldering the bulk of the load during their junior seasons. On top of Troy and Medd, junior Lafayette commit Patrick Roelke and newcomers junior Alec Delgado and sophomore Tanner Shimko will make up the state's deepest goaltending room. Every day will be a battle to see who starts for Delbarton, and the friendly competition will push each of these players to continue to improve. Moving from the goal to the faceoff X, the Green Wave have arguably the best tandem in the state. Lafayette-bound senior Nick Faccone and junior Navy commit Ryan Trafford both got their reps on the draw, and each won at a 65% clip. With two top end talents to turn to at FOGO, Delbarton should be expected to achieve and maintain possession for most of the game. What they do with that possession will be the question, as a returning offensive core of Bates-bound attackman Gray Doyle, Holy Cross-bound attackman Spencer Shead and Quinnipiac-bound midfielder TJ Coffey will have fresher faces surrounding them. Coach Kovachik expects his midfielders to step up and fill the shoes left behind, including Loomis Chaffee-bound Sean Doczok, Gettysburg-bound Vinny Ferrara, juniors Willie Doyle and Jack Sartorious, as well as sophomore Andrew Johnson. This group will have to put goals on the board, because the defensive group surrounding that deep goalie rotation will surely keep the other team off of it. Bucknell-bound Corbin Lukanski and Fairfield-bound Julian Radossich return to anchor close defense, with feisty LSMs in Villanova-bound Jake Melchionni and Franklin & Marshall-bound Nick Dotro joining them. A promising pair of sophomores in Will Pedicano and Bo Popham are expected to contribute significantly. Another name to look out for is junior Lafayette commit John Finkeldie. Coach Kovachik has taken on one of the toughest programs the program has faced, with Fitch-Pitt division matchups being interspersed with matchups against national and regional powers in St. Anthony's (NY), Malvern Prep (PA), Chaminade (NY), Iona Prep (NY), and Fairfield Prep (CT). He expects this tough schedule to push his players and prepare them for a run at a state championship.

Rumson Fair-Haven:
The Bulldogs are coming off a Group 2 title and appearance in the last Tournament of Champions final, and they are hungry for success this upcoming season. This team got a lot of production from its underclassmen last season, but will need to replace big names. The loss to graduation of 30-goal scorers Tommy French (Babson), Phil Passalaqua (Haverford), and Connor Spagnuola. Last year's faceoff specialist Noah Beacher has also moved on to college lacrosse at Wooster. The biggest loss comes in the form of leading goal scorer Quinn Stankovits, as the Dartmouth commit has decided to take on the New England Prep circuit with Deerfield Academy for his senior season. While some key pieces from last season's TOC finalists are gone, they return plenty to do some damage with as they move to Group 1. Leading point getter and Yale-bound senior Cole Cashion is back in the fold to man the offense after a 59 goal, 82 point season. Cashion will be running point with sophomore Grayson Goldin, who had a phenomenal freshman year with the role he was given. Seniors Bryce Devlin and Zach Iwan and junior Colgate commit Andy Croddick return to bolster the offense. Coach Marc Moreau has plenty of players that will get increased time factoring in, namely Leo Passalaqua, Griffin Kolb, DJ Devine, Nick French, Britt Lumsden, and Ethan Smith. Junior Luke Marascio is expected to spend his time at the faceoff X to take over for Beacher. With so many fresh faces on offense and a condensed preseason with the new NJSIAA format, Coach Moreau expects a learning curve for his offense that will disappear as they develop the experience and chemistry they need while lineups are being shuffled. While they are doing that, he will lean on a strong defensive core to carry the bulk of the load. Villanova-bound Beau Kemler and Virginia-bound Luke Jamin will anchor this group, with fellow senior Ryan Kalman, junior Matteo Gangemi, and sophomores Joe French and Frank Argilagos receiving the rest of the reps. Brown-bound LSM/defenseman Matthew Bockelmann is done with an injury, but the rest of this group will hold down the fort for him. Will Setteducate returns to mind the net after saving 61% of the shots directed at him last season. He looks to have a great senior year before taking off to The Hun School in Mercer County to do his postgraduate. Rumson-Fair Haven has strong coaching, a group with big game experience, some top scorers, and lockdown defensemen. If this group can get their legs under them early then they will continue to be trouble as the season progresses.

Westfield:
The Blue Devils fought hard through one of the states toughest schedules, but did not get the end result they were looking for. The lineup was laden with underclassmen, and they are back with a load of big game experience after the gauntlet of the Fitch-Pitt. Lafayette-bound FOGO Danny Hazard is back at the X after winning 61% of his draws and will drive possession for Westfield. He will be able to dish it off to two premiere attackmen in Cornell-bound Ryan Waldman and junior Princeton commit Cody Lam. Waldman contributed a 53 goal, 80 point campaign as a junior while Lam had a stellar sophomore season with 57 goals and 77 points of his own. Junior midfielders Anthony Buoscio and John McDonald both contributed last season and will take on bigger roles as they expected to fill the production left behind by James Haley, who has graduated and moved on to Washington & Lee. Maryland-bound Trey Brown will lead a stingy defense that will be protecting returning goalie Quinn Wojcik. Wojcik stopped 56% of the shots he faced last season, and will be relied upon as the last line of defense behind Brown and senior Jonathan Boufarah. Westfield's potent attack will lead them far, and the team has high aspirations for how their season will play out.

St. Joseph Regional:
The Green Knights lost in the Non-Public A quarterfinals a year ago after a solid season where they just could not find that signature win. The good news is the amount of talent returning for St. Joseph is across the board since the team gave so much experience to their underclassmen. Colgate-bound Kyle Rummel took 305 faceoffs last season and won a whopping 72% of them. He forms a tandem with Navy-bound Cooper Kurtz that rivals Delbarton for the title of top faceoff duo in the state. Rummel is a ground ball machine while Kurtz also excels on the defensive end of the field. They are joined at the midfield by Rutgers-bound Duke Richmond II, who scored 30 goals from the middie position as a junior. This group can score but will have quite the duo to dish it to at attack. Junior Navy commit Isaac Cruz has quite the shot, and he is even more dangerous when paired with fellow junior Siena commit Tommy Brennan. Cruz netted 26 goals and 40 points as just a sophomore while Brennan popped 13 of his own to go with 22 assists. How this offensive attack develops over the course of the season as these players continue to build their respective repertoires and chemistry will be must watch. Going back to the defensive end, you may be seeing double as UMass-Lowell commit Dylan Rummel, Kyle's twin brother, leads the charge. He is joined by Middlebury-bound Ryan Colella and a group of sophomores in Charlie Baldanza, Noah Blinkoff, Andrew Reeves, and Nathan Max Johnston. This group is tasked with protecting returning goaltender Ryan Cunningham, who turned away 66% of the shots he faced a year ago. The Green Knights have the pieces of a contender, and they have already knocked off the McCallie School (TN) down in Nashville to start the season. St. Joseph will have the schedule to prove themselves, they just need to go out and do it.

West Essex:
The West Essex Knights are coming into the spring with a head full of steam after an 18-3 campaign, a NJILL Waterman Division title, and an appearance in the North Group 2 sectional final last season. Coach Justin Schwindel believes his squad is ready for the next step, as they will move up to the Fitch-Pitt division to tackle the state's toughest competition. Leading the charge in the offensive end for the Knights will be sophomore attackman Anthony Drago and Lafayette-bound senior midfielder Jack Massotto. Drago is widely considered one of the top sophomores in the country and will look to build on a freshman campaign where he potted 62 goals and added 38 assists for an eye-popping 100 point season. Completing the one-two punch is Massotto who scored 44 goals of his own last season from the midfield position. The two have an unmatched chemistry on the field that will cause fits for opposing defenders. Alongside this dynamic duo is senior attackman Andrew Adams who finished fourth on the team last season with 34 goals. These players will be relied on heavily to man the offense and replace the production of graduated Rocco Garcia (36 G, 34A) and Michael Drago (15 G, 5 A). Michael Drago was instrumental at the faceoff X with a win percentage of 64%, and junior midfielder Ty Gann is expected to take over on the draw after seeing some action last season. He will be helped in the process by senior LSM Justin Bergman and the ground ball machine known as Massotto. The biggest question for the Knights lies in goal. Mainstay Connor Coughlin has moved onto his collegiate career at Stevens, leaving a void to fill in one of West Essex's steadiest positions in the last few seasons. Whoever emerges as the successor will have a feisty defense around him led by junior Riley Ruane, a Quinnipiac commit. Joining Ruane on the backend are Bergman and ironman junior Zach Ciaglia who started every game last season. Four-year starter Reece Molinaro leaves this group due to graduation, but Seton Hall transfer Matthew Capra is expected to step in and make an impact right away. West Essex is trending up and if the question marks surrounding goaltending can be answered, this team is among the favorites for a Group 2 crown.