2023 New Jersey Basketball Playoff Preview - Group 4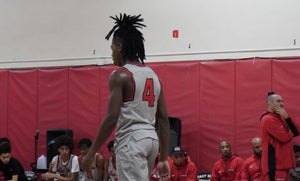 The Group 4 Basketball Tournament is highly competitive and showcases some of the best high school basketball talent in the state. With deep brackets and talented players, this tournament is known for its intense matchups and thrilling finishes. The Group 4 bracket includes the top programs in the state, making it a true test of skill and perseverance for both players and coaches. Lets take a look at how each section matches up. 
North 1
Looking at North 1 Group 4, Paterson Eastside sticks out as the clear favorite. They enter the group tournament stage with an astounding 23-2 record. They have faced tough opponents all season long, and thrived in the face of adversity. The Ghosts' took down some tough programs along the way, including Gill St. Bernard's, Hudson Catholic, and Dwight-Englewood. Senior guards Bryce Stokes and Preston Brown can arguably be seen as one of the top duos in the state, as they average a combined 39 PPG. This bracket has Eastside written all over it. If any team does happen to win, it would go down as one of the biggest upsets of the year!
North 2
Taking a look at the North 2 Group 4 bracket, you can tell that it will be a very interesting tournament. This is one of the deepest brackets in the state and it is absolutely loaded with talent. Linden seems to be the favorite here, despite being the #2 seed. They have had one of the toughest schedules in the bracket, and have impressively compiled a 20-5 (in state) record. Some of their signature wins this season are over Manasquan, Elizabeth, South Plainfield, St Joe's (Met.), and other programs. Elizabeth isn't too far behind, coming in with a 15-4 (in state) record. The Minutemen took down Linden 2 out of 3 games this season, as well as an impressive win over Ewing. Some other teams to watch out for in the bracket are Colimbia, Westfield, and Ridge. One team that can flip this bracket upside down is Newark Eastside. Despite being the #8 seed and having a record of 14-12, the Red Raiders have had an absolute gauntlet of a schedule, facing some of the best teams in the state week after week. Their best wins of the season are over three Top 20 programs in Trenton, Seton Hall Prep, and Arts. Be on the lookout for Newark Eastside to make some noise in this bracket!
Central
The team to beat in this bracket is Trenton. They are the clear top team in the Central Group 4 bracket, and currently ranked #7 in the state. They bring a 25-1 record into the tournament, picking up key wins against Ewing, St. Thomas Aquinas, and Paul VI along the way. The Tornadoes are led by 3 tough, experienced seniors who all average 12+ PPG. The #2 seed Freehold Township hasn't had too tough of a schedule, but still managed to compile a 19-4 record, which is impressive in its own right. A dark horse team that is looking to shake up this bracket is South Brunswick. They're coming off of a great run in the GMC tournament, where they took down Colonia and South River on their way to a nail-biting loss to #8 St. Thomas Aquinas 53-50. South Brunswick proved that the bright lights don't blind them, and they can hang with the best of the best. Look for the Vikings to come out firing in this tournament. 
South
The two teams to look out for in the South Group 4 bracket are Lenape and Egg Harbor. Lenape is slotted as the #1 seed in this tournament, holding a record of 19-7. They had one of the tougher schedules in the bracket, but managed to grab impressive wins over tough programs like Moorestown, Mainland, Hamilton West. #3 seed Egg Harbor has been the most impressive team in this bracket, coming in with a 23-5 record while having the toughest schedule in the bracket. The Eagles come off of an outstanding CAL Tournament Championship run, where they took down Mainland, and #15 St. Augustine in the process. Egg Harbor should be seen as the favorite to win this one. Also watch out for #2 seed Toms River North to make some noise, as they have had an impressive season, matching Lenape's 19-7 record.
Key Players to watch
Bryce Stokes, Paterson Eastside
Preston Brown, Paterson Eastside
Nikola Borovicanin, Ridge
Nas Robinson, Linden
London Carson, Elizabeth
Jayden Myers, Columbia
Jalen Robinson, Columbia
Sutan Fitzpatrick, Newark Eastside
Davontay Hutson, Trenton
Chris Wilson, Trenton
Antwan Bridgett, Trenton
Kalani Antoine, South Brunswick
Alani Ajigbotosho, North Brunswick
Tye Dorset, Lenape
Myles Primas, Lenape
Micah Ford, Toms River North
DJ Germann, Egg Harbor
Jay-Nelly Reyes, Egg Harbor