2023 New Jersey Basketball Playoff Preview - Group 3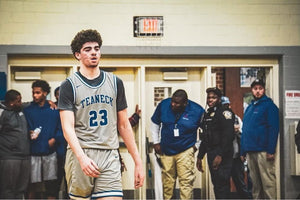 Photo by: Marco Morales
As the Group stages start to pan out, Group 3 shows promise to be an epic battle of talent and determination. This group is widely regarded as one of the most competitive in the state, boasting a lineup of powerhouse teams and incredibly skilled players. With so much talent on display, it's sure to be an unforgettable experience for players, coaches, and fans alike. Buckle up and get ready for an action-packed tournament that will have you on the edge of your seat from start to finish!
North 1 
To start off Group 3 action, we have two teams here that stand out from the rest. The #1 seed, Ramapo, has been dominant all season. Ramapo is currently ranked #6 in the state, deservedly so. They picked up some signature wins this season over the likes of Gill St. Bernard's, Montclair Immaculate, and Bergen Catholic, which are all Top 20 teams in the state. The Raiders are led by junior guard, Peyton Seals, who averages 17 PPG. Ramapo's strongest opposition in this tournament is the Highwaymen of Teaneck. This squad is led by one of the best forwards in the state, Tyler Tejada. The senior is averaging 24 PPG and 10 REB/G on the season, and is looking to carry that over to the postseason. Teaneck enters this tournament as the #2 seed with a 21-5 record. The Highwaymen are no stranger to strong competition either, as they picked up key wins over Montclair Immaculate, Arts, and Paterson Eastside this season. Although anything can happen, look for one of these two teams to take the North 1 Group 3 Championship.
North 2
The North 2 bracket is fairly even, having multiple teams that have a legit shot at taking it home. The #1 seed, South Plainfield, comes into the tournament with a 22-5 record. Although they have a very good record, South Plainfield's strength of schedule is on the weaker side. They did a great job at winning the games where they were favored, but couldn't get it done against the tougher teams. An interesting team in this bracket, slotted at #4, is Colonia. They had a tough strength of schedule compared to most of the other teams in this bracket. At 19-8 they were able to grab solid wins over St. Joe's (Met.) and South Brunswick. They were also one possession away from taking down a Top 10 program in St. Thomas Aquinas. West Morris, Chatham, and Mendham also share a fair chance at winning it all. 
Central 
Ewing is one team that stands out in the Central Group 3 bracket. Ewing started off the season 14-0, before falling to Hamilton West, who is the #3 seed in this bracket. The Blue Devils have key wins over Lenape, Patrick School, and the #2 seed Nottingham. Ewing could very well still be undefeated if a few possessions ended differently, as their 4 losses were never by more than 8 points.This squad is led by 3 experienced seniors, Darnelle Forrest, Naire Preston, and Kenny Rankin who all average over 12 PPG. Although Ewing is the favorite to win the group, Nottingham and Hamilton West can not be overlooked, considering Hamilton West owns a win over the Blue Devils. 
South
The South Group 3 bracket took a complete turnaround after Camden Eastside was deemed ineligible to compete, as they were the #2 seed. The elimination of Eastside opens up the bracket for some other contenders to potentially win it all. The #1 seed, Mainland, has been very solid overall this season, entering the tournament 22-3. They picked up impressive victories over Elizabeth, Lower Cape May, and Eastern. The Mustangs are led by junior guard Cohen Cook, who averages 17 PPG on the season. Some other teams in this bracket that can give Mainland a run for their money are Moorestown (20-7), Hammonton (18-8) and Westampton Tech (20-6). 
Key Players to watch
Peyton Seals, Ramapo
Wyatt Eglinton Manner, Ramapo
Tyler Tejada, Teaneck
Brandon Dean, South Plainfield,
Noah Taylor, Colonia
Mike Ewing, Mendham
Cohen Cook, Mainland
Tahijj Hunter, Westampton Tech
Jayson Carr, Westampton Tech
Kenny Smith, Hammonton 
Darnelle Forrest, Ewing
Naire Preston, Ewing
Kenny Rankin, Ewing
JP Dickerson, Nottingham