2023 New Jersey Basketball Playoff Preview - Group 2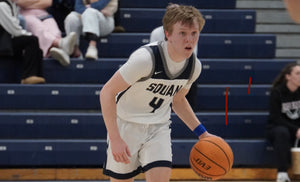 As the high school basketball season rolls on, the state of New Jersey has entered the postseason with the Group 2 playoffs just around the corner. In Group 2, the competition is fierce and full of talented teams from across the state. These teams have battled all season long to secure a spot in the postseason and are now looking to make a run towards a state championship. With the tournament set to begin, let's take a closer look at some of the top teams in Group 2 and their chances of emerging victorious.
North 1
Group 2 North Section 1 might be the easieser bracket in terms of depth but don't let that take away from some of the teams that can really turn some heads if they make it out of here. 1-seed Ramsey looks like the clear favorite to win this bracket as they have a 20-4 record and are coming off one of their more impressive wins this season over Dwight Engelwood. While they look to continue their dominance, others will look to put an end to their streak. In terms of the biggest threat to teams in this bracket, Vernon is looking to put this bracket on notice. The Vikings come in with the 4-seed but actually have the best record in the entire bracket. With a very balanced team, they should cause problems for their competitors and might be hopeful to make a nice run. A sleeper in North Section 1 to watch for is Pequannock. They started off the season really hot winning 13 of their first 15, but have been shaky since. However, they have a talented team with Karson Culuko and Finn Powers leading the team with over 1000 points on the season between the two. If they can get going at the right time, we might have some upsets looming in the near future. 
North 2
Similar to the North Section 1 bracket, there is a gap in true competition in this bracket. One of the more interesting teams to keep on your radar should be Newark Collegiate. Coach Brooks has this team sitting at 21-5 with one of those losses coming out of state, two coming from top non-public schools, and the last two losses within 3 points. This team is sneaky and I wouldn't be surprised if they wind up taking this thing. However it won't be that easy. Coming in with the top two seeds, Caldwell and Madison look to put an end to this talk. Both teams have put together solid campaigns but have taken some recent losses which makes us question their chances of pulling away with the bracket. It won't be an easy task for either team but they have the experience and played some challenging teams this season to set them up for this moment. Last but not least, Rutherford has a legitimate case to take this bracket. The Bulldogs have been inconsistent at times, but are powered by star player Tarik Bicic. The senior already has over 500 points and just scored 63 in a recent game. If the Bulldogs want to make a legit run, it will all start with him. As the top 4 teams have the best chance to make it to the semis, we would not be shocked if a big upset happens before. On that note, just be careful playing against Newark Central and Lyndhurst. 
Central 
The Central bracket is LOADED with talented players and teams and we expect some wars to occur as teams fight for the top spot. Coming in at the 2-seed and probably one of the best teams in the entire group is Manasquan. Lead by Sophomore guard Darrius Adams, the Warriors have been a top team in the state for almost the entire season. However, many teams in this bracket will look to give them a run for their money. Top seeded South River has been a force in the GMC this year with a 23-3 record on the season and some impressive wins over teams like Bound Brook and St. Joe's Metuchen. Another team under the radar this season was Bound Brook who compiled a 20-4 record lead by star Forward, Jordan Summers. He's been on a tear this season averaging over 26 points per game and will look to make statement during this playoff run. A dark hours contender to look out for is Roselle. The Rams have been super hot this year with a 22-4 record. They surprisingly have the 7th seed and are expected to face Manasqun in the second round but if anyone is to pull off a huge upset, it is them. Other teams like Spotswood, Rumson, and Raritan make this bracket very competitive and we expect to see some great battles. 
South
The South Bracket is up for grabs and we are loving it. After the suspension of Camden due to an altercation with cross town Eastside rivals, this bracket is wide open. The current 1-seed Haddonfield has played great basketball this season against some great competition. They recently dropped a 17 game win streak but look to bounce back this week as they open up against West Deptford. Another interesting team to look at is Cinnaminson. One of the last teams to remain undefeated this season, the Pirates have put together a 23-2 record and average nearly 70 points a game. Without the presence of Camden, they technically claim the 2-seed here and have the numbers to back it. A young and hungry team with very good depth should not go unnoticed in this bracket. A team to watch out for will be Sterling as they might have one of the harder, if not the toughest schedule in this bracket. They are currently on a 4 game losing streak, but all to tough opponents including 1-seed Haddonfield. Despite some losses, if they start clicking at the right time they will be a team that can pose a serious threat. Other lower seeded teams that deserve some more credit than where they fall in the bracket would be Overbrook who comes with a 21-6 record, Middle Township, Lower Cape May, and Medford Tech. 
Key Players to Watch
Darius Adams, Manasquan
Ryan Frauenheim, Manasquan
Kiye Walker, Spotswood
Jordan Summers, Bound Brook
Tarik Bicic, Rutherford
Noah Harvey, Cinnaminson
Tre Powell, Medford Tech
Roman Santos, South River
Alex Grospe, South River
Caleb Mundell, Sterling
Ray Zamloot, Caldwell
Jack O'Leary, Raritan
Karson Culuko, Pequannock 
Tahdir Carson, Roselle
Isaiah Fuller, Roselle