2023 New Jersey Basketball Playoff Preview - Group 1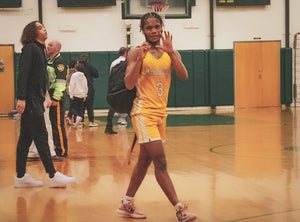 Photo by: Paris Livingston
As we gear up for the New Jersey state basketball playoffs, let's take a closer look at the teams in each group and what we can expect from them. Group 1 may have some smaller sized schools, but don't let that fool you: there is some hidden talent that could make for some exciting games. While the favorites may be established, upsets can always happen in the world of sports, so anything is possible. Let's dive into the Group 1 playoffs and see what we can expect.
North 1
The current favorite and 1-seed in this bracket goes to Cresskill. The Cougars have a 15-7 record, and have already beaten a few teams in their bracket including 2-seed, Park Ridge… twice. However the biggest threat to Cresskill is Paterson Charter. Coming off a 31-2 season, Coach Wimberly, knows what it takes to make a run as the returning Group 1 Champions look to defend their title. Although a lot of key players have graduated, Paterson Charter still has a played tough all seasons and had one of the harder schedules amongst their section. Hasbrouck Heights also a very good chance to upset the 1-seeded conference opponent. In fact, Hasbrouck actually has more conference wins than and an early season victory over Cresskill that makes the top half of the bracket very interesting. We see this bracket becoming a war after the quarterfinal round. 
North 2
The North 2 bracket here is honestly a toss up. A lot of the top teams seem to have similar records with similar themes in terms of wins and losses. Newark Tech and Hoboken are the top two seeds and might be the clear favorites thus far. Hoboken has had a slightly tougher schedule but Newark Tech were in many close games in which they could have won. Another team to look out for is Bard. The Newark charter school has been 8-1 in their last 9 and might be the hottest team coming into this tournament. With many teams in the hunt, we expect some interesting match ups as this plays out. 
Central 
The Central bracket is pretty interesting as many teams will have their chance to compete for a title. Coming in at the 1-seed, Eagle Academy has compiled a 20-5 record and had played some very good competition. Probably the toughest schedule amongst teams in this bracket. However, there are still many teams that can make a run. The Shore conference has some tough teams here in Shore Regional, Keyport, and Point Beach, but a sneaky team to watch out for is 5th-seeded Highland Park. After taking some early season losses, the Owls went on a 12-2 run leading up to playoffs. With a 17-5 record, they have already beaten some teams in this bracket and will get the chance to prove a point as the projected lower seeded team. 
South
Wildwood comes in at the 1-seed, with Woodbury and Paulsboro at the 2 and 3. In terms of favorites, these seem to be the top teams to take it all. Wildwood is currently 20-5 with a core group of sophomores and juniors looking to make a statement as the young group fell short in last year's semi final bracket. Woodbury looks to make a run this year as the program turned itself around from only 9 wins last year to a current 18-6 record this year. Led by JaBron Solomon, the Thundering Herd have been playing really well against some tough opponents. Mid-season they picked up an 18 point win over 3-seed Paulsboro, who they might run into once more in a potential semi-final matchup. However, despite an early season loss, Paulboro has been down this path before and still have a lot of fight to give even after losing some key players from last year's 22-4 roster. I wouldn't count them out just yet! Another team to keep on your radar is Burlington City who have shown balance amongst a few players and can really pull off a big upset. 
Key Players to Watch
Jesus Koudou, West Caldwell Tech
Deron McLaughlin, Park Ridge
Ty Barlow, Weequahic
Jasir Lane, Hoboken
Kevin Burns, Point Pleasant Beach
Jack Fitzpatrick, Henry Hudson
Daniel Starcevic, Highland Park
Tae'Jean Wilson, Eagle Academy
Junior Hans, Wildwood
JaBron Solomon, Woodbury